10 mile trail race
Tuesday, September 02, 2008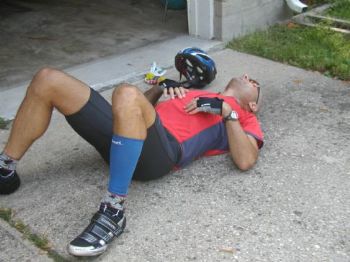 Did a ten mile trail race this past Saturday. And let me tell ya, it was tough. If it wasn't going up, it was going down. Tons of roots, rocks, stone steps twist and turns. So that was fun, right? Yes, it was.
I decided to bike out to the race. It was a 20 mile bicycle trip. Made it to the race with about 40 minutes to spare, so rested, drank water and talked. Ran the race in 1:32:20 and was really tired after that. Course, now I had to ride home. I rested and refueled for about 30 minutes and then started for home.
It was such a hard ride home! My back started to bother me and really ached most of the way. I just wanted to get home. Ugh! When I finally go off my bike in my driveway, I just layed down and rested for 15 minutes. My calves were so worked that they were twitching. Looked really weird.
But yes, I have recovered now and am ready to get back into it. Next race is, maybe, 20 Sept (60K), and for sure on October 11th (18 miler).
I plan to rest NEXT YEAR.