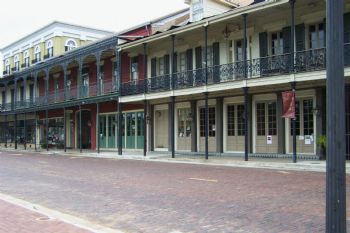 With Gustave roaring into the Gulf and all of South Louisiana driving North, my friend, Caroline and I headed South instead...to Natchitoches, LA....about halfway between Monroe, LA. in Northeast, LA. and Alexandria, LA. in South Central LA. We had made this reservation at a Bed and Breakfast in Natchitoches over a month ago and figured it was far enough inland to be safe, so we saw no reason to change our plans. There were 18 other guests at the B & B this weekend...all from the Lake Charles and Lafayette, LA. areas...all fleeing the storm. It made for a far more interesting and humanly significant visit than would have otherwise been the case. Some of these people will go back to normal lives...some will find their circumstances completely altered. And while Gustave has not been as devastating to our state at this point as was initially feared, the tale is not finished yet. Caroline and I drove back North and home this afternoon. These families have a couple of days more, and perhaps far longer, to wait to resume their lives. We all sat at a huge communal breakfast table this morning, listening to each other share stories as though we were all at a mutual family reunion. We laughed like old friends, wandered in and out of the common living area to steal peeks at the televised reports drifting in from points south, exchanged names and addresses in some cases, wished each other well and went about our daily plans.
Natchitoches is the town where the movie, Steel Magnolias was filmed. It is a beautiful city, interesting both culturally and historically. As we left town, the wind was beginning to blow signs over and stir up chop on the Cane River Lake that flows through the middle of town. Rain fell in big fat drops, but gently, and students from Northwestern LA. State Univ. gathered on New Orleans style balconies throughout the town to watch the storm and the tourists roll through.
Here at home, the air is ominously still. Rain has stopped except for fitful spitting, and we are under a tornado watch. My Mother, who lives 70 miles Southeast of me, called to say that she had lost electric power. If it stays out for much longer, my brother will fire up the generator to power the water pump, a few lights, the refrigerator, and some fans.
I'm going through several days worth of e-mail backlog, and I will shut down the computer very shortly. See y'all soon!
P. S. The photo is the deserted Front Street in down town Natchitoches on Sunday evening prior to Gustave's land-fall. Things were actually more lively the following morning as evacuees had begun to fill up the local restaurants, shops, B & B's, etc.