89 MILES TO GO!
Sunday, August 31, 2008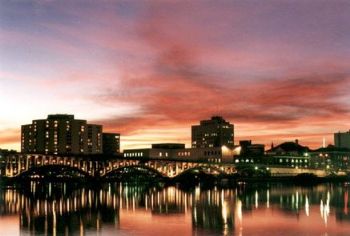 WELL HERE WE ARE! THIS IS THE BEGINNING OF A CHALLENGE ON OUR NEW TEAM. I AM RIDING MY STATIONARY BIKE 107 MI. TO CHICAGO O'HARE AIRPORT. I RODE 18 MI TODAY. THAT TOOK ME FROM MY SMALL HOMETOWN OF ROSCOE ,IL. IF ANY OF YOU FOLLOW RACE CAR DRIVING, THAT IS THE HOMETOWN OF DANICA PATRICK. MY DAUGHTER WENT TO SCHOOL WITH HER AND MY HUSBAND KNOWS HER FAMILY.
NOW BY RIDING 18 MI ,THAT TOOK ME THRU TO PROBABLY THE SOUTH SIDE OF ROCKFORD ,IL. ROCKFORD HAS AN AWESOME FESTIVAL THIS WEEKEND CALLED 'ON THE WATERFRONT'. THEY ALSO HAVE SOME REALLY GOOD FIREWORKS. I HAVEN'T BEEN TO IT IN YEARS, BUT THAT IS BECAUSE I DON'T WALK GOOD ENOUGH. THERE ARE A LOT OF FOOD ,VENDORS AND MUSIC, MUSIC, MUSIC...
THE PICTURE I CHOOSE FOR MY BLOG IS OF THE ROCK RIVER AT NIGHT TIME LOOKING AT THE JEFFERSON ST BRIDGE. IT IS PRETTY AT NIGHT.
ROCKFORD IS ALSO THE HOME OF THE FAMOUS ROCKFORD PEACHES WOMENS BASEBALL TEAM. THEY WERE FORMED DURING WWII , TO TAKE UP THE SLACK BROUGHT ON BY THE MEN GOING TO WAR. THEY MADE A MOVIE OF IT ,WITH MADONNA, ROSIE O'DONNELL, TOM HANKS AND GINA DAVIS, CALLED ' A LEAGUE OF THEIR OWN'. THAT WAS A GREAT MOVIE.
WELL THAT WAS MY ADVENTURE FOR TODAY, I'LL HAVE TO LOOK AT A MAP TO SEE WHERE I WILL END UP TOMORROW AND WHAT I CAN TELL YOU ABOUT IT. ARE YOU ON YOUR WAY MAURI ???