Ran for the first time since having Vaughn!
Saturday, August 30, 2008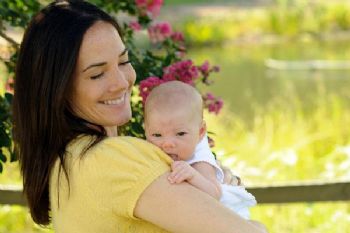 Well I FINALLY stopped bleeding post-partum! woohoo!! I signed up for my first 1/2 marathon tonight! It is in 10 weeks. OH MY! So I have not worked out since about the 1st week of December (and I haven't RAN since before I was preggo). Except I did walk an 8k when I was 6 1/2 months preggo.
Well so I decided I needed to start getting my arse in gear. DH returned from Iraq this week (2months early!! woohoo!) So I had a lot of energy tonight so I decided to go for a run.
MAN it was HARD! I'm SO outta shape!! But I ran 35 minutes, and only stopped once, for a minute and walked. It was by no means a fast run. It was a jog. Probably my slowest. But it felt GREAT. WOW. I missed working out. I'm not sure how far I ran, I'll drive it tomorrow and see. I was just aiming for time, not distance. So I'm pleased. I'm sure I'll be feeling it tomorrow.
I started my diet today as well. I was around 132 lbs, but than my sister came for a visit and we drank margaritas EVERY night. Than my hubby came home, and he wants to eat all of the things he couldn't get in Iraq. So needless to say I'm back up around 135 or so. But I am DETERMINED. I ate well all day. YAY. I even turned down the gyro's my husband went and go and ate a sensible tuna sandwich! whoohoo!!
I'm signing up for the gym this week, now that my hubby is home and I'll actually be able to leave my daughter with someone! I can't wait to reunite with my beloved elliptical!!
120lbs here I come!