A Pregnant Fat Chick
Saturday, August 30, 2008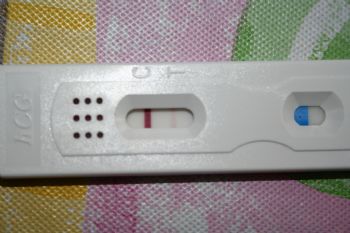 I haven't had much time to blog lately, but I'm hoping that now that things are calming down more, I will have more time. This will be one of my shortest blogs yet. Since the beginning of July I have been getting negative test results on test after test after test (home pregnancy test). I must have taken atleast 10 home tests, and they all come back negative. After being more than 2 weeks late, I called the doctor and she had me go in for a blood test. After hiking all the way to the hospital to have it done, we call the next day to get the results...negative. Are you kidding me!??! I'm now on my 3rd week of being late, and just for the hell of it, we go to the dollar store and get a dollar pregnancy test. I decide to wait till the morning to take it, something about morning pee being stronger, I don't make the rules, I just follow them (sometimes). Right away it already looks like it will come up negative, so I leave the bathroom to get the kids we already have up for breakfast. I don't know why I went back to the bathroom, but I did, and I looked at the test once more, and to my astonishment there was a very light, very faint pink line...OMG! Could it be?? I'm pregnant?? Again...going for 3 under 3. Now I know there are a few of you reading this, thinking "but she is a smoker!" Don't worry, once I get the definate postive result from the doctor, I will put up my lighers and give up smoking, hoping for more than 9 months, but lets aim small.
So there you have it, a possible pregnant fat chick.
P.S. The test I used for the picture is the exact same kind I used, and the faint line is almost the same as what I saw (no it isn't mine though).