Here's my big
Friday, August 29, 2008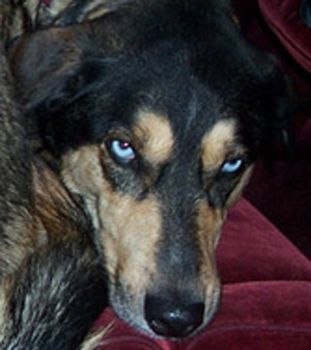 Sinatra is 85 or 90 pounds. He's German Shepherd, Husky and Greyhound. He got his name because he inherited the husky blue eyes and so we named him after 'Ol Blue Eyes himself. Anyway, Danielle, he is the best dog I've ever had. Never makes a sound unless he feels our house is being threatened. Anyone that comes to our door, unknown, is terrified of him (thankfully) but he really is a BIG BABY. He also thinks he's a lap dog. Ok now on to my goals:
Leslie DVD
Beki's challenge
D challenge
DD challenge
STC challenge
Exercise of the Day
Exercise of the Day email
Make a batch of chicken soup
Get that art smock ordered
Make healthy choices - once again - I could have been better.
Have a wonderful, long and relaxing weekend everyone!