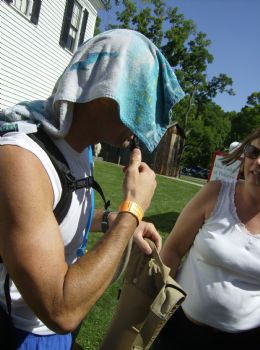 101.2 miles Trail race through Cuyahoga Falls, National Park, Ohio
Well, it all started at 0500 Saturday morning on August 2nd, 2008. Okay, okay it really started a lot early then that date, many years earlier, but I won't go into all the training miles run, all the bicycling miles ridden and all the cross training that I've done to get into shape to run 100 miles. For the race my wonderful family would be crewing for me and at 0500 they were there to see me off on my quest. The National Anthem was sung and the gun went off. My daughter described the start to me later, "Everyone just ambled off." No one was in any real hurry and we all knew you have to pace yourself. I mean, the course is 101.2 miles, and most people hate driving that far.
The first 9.6 miles was road. Yes, road. All I wanted to do was maintain a slow pace as it was easy to want to go fast on this portion. I held it at an easy 9-10 minute pace per mile. At the aide station at the Polo Fields I grabbed some food, refilled my water bottle and drank some Gatorade and they left to get our first taste of the trails.
Running on the trails is a lot different then road. There are turns, rocks, roots and tree limbs, hills and stream crossings so you really can't let your mind wonder off to much. You also have to keep your eye out for trail markings telling you which way to go. There is nothing worse then getting lost.
I had attempted this same race last year only to crash and burn at mile 51. So for the first 51 miles I kind of knew what to expect. For instance, the towpath (gravel bike path) I remember all to well. I ran it last year. This year I employed the 5/2 method. Run 5 minutes and walk two minutes. I kept this up until the aide station at mile 33 where I met my family for the first time. I ate, had potty break then off for a 6.8 mile loop and back to the same aide station. A pretty uneventful loop and when I got back I fueled up some more and had a BLT prepared by my wife and also some cold rags over my head. It was getting to be a very warm day and that felt so good. I needed to get the body cooled down. After leaving that aide station I wouldn't see my crew until the Boston Store aide station at mile 56.
On one of the trails I passed a gentleman walking his dog and then I again met up with him while I was filling up my water bottle at a fountain. He started to ask me all kinds of questions about training for 100 miles. I was being as polite as I could but I needed to get out of there. The mantra of ultra runs is "continuous forward motion." I answered his questions as I was backing away and finally had to say, "Well, gotta go." And off I went. Hope he wasn't offended.
As I was nearing Boston Store I came to a set of stairs that went up and up and up. Whoever had marked the path put a big smiley face in chalk dust at the bottom. That gave me a chuckle as I started up those stairs. No, I did not run them. I would have run out of gas then and there. Another mile and I was headed out of the woods toward Boston Store and wouldn't you just know it, but blocking my way was a train on the tracks and it was stopped. So while I waited for about 5 minutes I stretched and chatted with another runner. I was very tempted to crawl under that train.
At Boston Store I had more cold rags for head and shoulders, more fuel and off for a 4.5 mile loop and back to Boston Store. After that I wouldn't see the family until mile 81.5 where my oldest daughter would pace me for the last 20 miles. In 100rd milers pacers are allowed at certain points of the race.
Up to mile 75 I was thinking that I was feeling remarkably well. My only problems were a slight left calf strain since about mile 30 and both my shins were getting sore. Like I said, that was up to mile 75, after that, well, it was just tough. Around mile 70 I was running alone and came up to a T-junction on the trail. Oh no! There were no trail markers telling me which way to go. So whenever that happens on trail races you back track to the last marker you saw and see if you missed anything. I found the last marker and I was headed in the right direction. Another runner came up and we discussed what to do then several other runners came. It was frustrating. A pacer had a cell and called a friend at an aide station that got with the race director who directed us in the right direction. As we were nearing the next aide station we saw a couple of volunteers headed out with an arm load of trail markers to remedy that section. Mentally, that hurt me. I was feeling bummed as 5 runners had passed me during that ordeal. Well, I made myself stop thinking negatively and to continue to run. Your worst enemy is negative thoughts.
The next aide station was called Pine Hollow at mile 75.1. It sat atop this large grassy hill and it was nicknamed "Sound of Music Hill". The next aide station was Covered Bridge 6.6 miles away. Now things started to get hard. It was dusk and it was starting to get dark. I didn't need my headlight yet and I was putting that off as long as possible. Also, my body was getting beat up. My toes and feet hurt and my shins where not happy with me, but I had to stop those negative thoughts and continue. About half way through this I tripped over a root and fell to the ground. I did not immediately get up and it felt good to lay there for a minute or two. I mean, come on, at that time I had been running for 15 hours so to lay there was great. I finally got up and continued on. I put on my headlight a couple of miles later and this took me to a whole new realm of the race. Running in the dark is very strange and disorienting. You are tired and you have to try and become more focused to the ground in front of you to avoid kicking and tripping over rocks and roots. All the time looking out for trail markers so you don't get lost.
Finally, finally I make it to the covered bridge, 81.5 miles, only 20 to go. I am happy about that. I have two big pieces of pizza, get rid of my camelback, music, and carry my water bottle the rest of the way. I couldn't stand that thing on my back anymore or the music in my ears. My daughter is ready to go, so we go! The next section is a really technical (roots, rocks, hills, twist and turns) loop of 4.1 miles. As we are walking up the first big hill I tell my daughter to keep me running on the flat sections as I could not run hills up or down anymore. My shins hurt and my toes hurt and yes, I was sore.
Coming back to the covered bridge station I was about to go the wrong way when aide stations volunteer stopped me. The trail markings were pointing the wrong way and thanks to my wife for pointing this out to them they were able to fix it. I was very happy that my wife did that as I was just too tired to run any extra miles. I had some coffee and water and off we went.
The next several miles were uneventful. My daughter kept me running on the flats and I tried not to be grouchy. Out in the woods I could hear the cheers of all the volunteers at the next aide station still a long way off, but it was motivating to hear. They turned out to be the loudest station and it was fun. I had some hot potato soup there and water. I could not stand anything sweet anymore.
As part of my training for 100 mile runs I have read a lot of other people's race reports. They are all very entertaining, but what I really thought was interesting was that some have had hallucinations. This can be caused by electrolyte imbalances or just being dead dog tired. Around mile 91, I guess, we were coming into Cuyahoga Falls. I was so looking forward to getting to the next aide station as it meant just one step closer to the finish. Running down a street I told my daughter that I could see people moving around up there so it must be the aide station volunteers looking our for us. My daughter disagreed. Turns out the street lights were playing off some street signs and they looked like people to me.
The next section was some road and towpath and I kept up a pretty good pace there. I could not run for very long though. My daughter was doing a good job motivating me. I had been worried about her pacing me for 20 miles as she has never run that far. But with my pace the way it was she wasn't having any problems. The next aide station I had a hamburger. That was pretty good. This was the last aide station and we had 4.8 miles to go. 4.8 very long miles. When you are that tired the miles are very long and this proved to be the longest section for me despite being excited about finally completing a 100 mile trail race. 100 miles…it is still hard to comprehend that.
So off we go from the last aide station. We left on bike trail and then down into the woods again. I was doing pretty well until we came to some stairs. Up and up we went and it was hard. We ran some more on the trail then some more stairs that went up and up and up. Ugh! I was using the railing to pull myself up. Would they ever stop?! At the top we ran below some power lines which seemed like forever. Came out on a road and took a left and I could hear someone finishing to cheers. I thought I was close. Actually we were maybe two miles, but I thought we were done with trails. I was tired, my feet ached and hurt, shins hurt, and left calf very sore. A quarter mile on that road and then we made a right turn onto the hardest trail of the course. A very rocky ledge for maybe a mile which took me forever it seemed. Finally we come up out of that trail and took a right on a road to the finish about a mile away. You could see it and it looked good!! My other two daughters were there to meet us and run the rest of the way in. It was hard, but the end was truly in sight this time and relief and pride flooded in. And did I sprint to the finish, you might ask? NO! Final time: 22 hours and 26 minutes and good enough for 14th place out of 89 finishers. 139 started the race.
I was extremely sore from this event. During the awards ceremony they brought the awards to you so we didn't have to walk up and get them. My feet were pretty bad off. I had a few blisters, but didn't notice those during the run. The worst was my long toes. They were blistered around the toenail and those two nails came off a week later. A month later two more toenails came off. My lower legs swelled up, especially my left from the calf strain. That lasted 4 days. I hobbled around the best I could at work Monday and for the rest of the week I had a class so at least could sit. Two weeks after the race I ran 3 miles and felt pretty good. Three weeks later I ran a 50K trail race.
People have asked why I would do something like this. Why not, right? I'm a runner and this is a test of extremes. People test there abilities in many different ways, this is the way I test myself. It is just me against myself. I feel that if you set your mind to it you can conquer anything and nothing is impossible.