Close!
Friday, August 29, 2008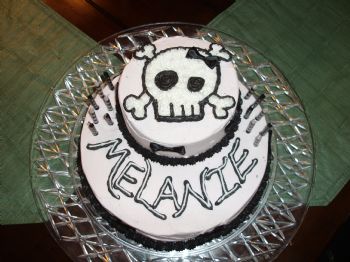 Goal today was 188.5, I weighed in at 189.5... close, really close.
Thank you all for the compliments on my turtle cake, it was fun to make. It's a family tradition for me to make a special cake for my kids' birthdays. I've done it since my first turned 1... and that cake, while cute, was ... well, let's just say I've learned more over the years :)
the one above was for my daughter's 14th birthday. She chose what she wanted and I made it happen. :) but, with that cake I cheated quite a bit :( oh well, that was a few months back. It's a pale pink with black and the skully is white.
I've really been buckling down hard this past week to catch up to my goal. I think if I keep this momentum I'll eventually catch up to where I had planned on being. To be honest, if by Halloween I'm off by a smidge,... say less than 5 pounds, I"ll probably still be pleased.
All the support from y'all is amazing, thank you so much!
Bug Hugs Sparkfriends!
Renee'