Black Dawn
Monday, August 25, 2008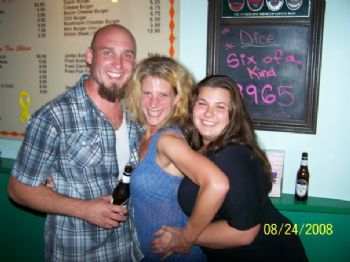 Black Dawn is the name of my friend Matt's band which their style is an intense yet melodic style of alternative metal. Black Dawn has been together since 1992, and that is almost as long as I have been putting off seeing one of their shows. I always made some exuse or another, and the bottom line was that I was AFRAID to go?! Although I like alternative/nu/heavy metal bands, my favorite bands being Disturbed and Korn. I do NOT look like the stereotypical metal fan, Nor do I belong anywhere near a mosh pit!!! This Saturday I had no excuse and finally sucked it up and went. I am so glad I did!
I was so impressed by their talent, they put on a terrific show. My friend Matt (in pic above) has a great voice as lead singer and plays a mean guitar! Tom is their other guitar player and founder of the group. I was impressed by his playing and he has Crohn's Disease like I do so, there is an extra amount of respect I have for him. Enzo is a crazy intense drum player, who that night was playing amazingly (and breaking sticks left and right) with a bulging disc in his back. Yikes! And I don't think the bassist James stopped moving for one second, he was so into his "zone".
My friend Katie (in pic) joined me, and one of my coworkers surprised us by showing up at the bar. We had a BLAST!!! My friend Matt was so excited we were there, he was smiling from ear to ear. It was an eclectic crowd and everyone seemed to have had a great time doing their own thing with the common thread of listening to an amazing band do their thing. It was a terrific night and I felt so stupid to put it off for so long.
Just another reminder for me to continue to keep breaking out of my comfort zone, surround myself with passionate people who are doing what they love to do, and most importantly Not to be Afraid to try things I have never done before because I will (most likely) like it!!! Life is too short! Rock On!