Homecoming!
Tuesday, August 19, 2008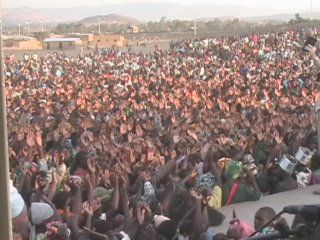 Yesterday and even today, you may have noticed I was unusually quiet on Spark People.....Our internet went out. This is part of living in Africa, but you deal with it.
Today, we have the internet fixed- sort of....The power keeps dipping below what our internet radio can deal with. So, I am writing furiously trying my best to get in a few posts and write this blog before the power keeps me silent.
Don called and is coming in tonight! Very happy to hear that he is coming in early instead of late for a change. That means I might be quiet tomorrow. Don will want to sleep in and then spend time with me.
I am quickly putting together a meal that I planned to make tomorrow, but he said that he will not feel like eating tonight. I don't even expect to see him before 10 p.m.
So your assignment today is to thank God that- most of you- live in a country that has stable power and internet.
Also remember to say a prayer for my dear husband.
Mary