Choices Part II
Monday, August 18, 2008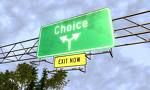 Choices Part II
The results of our choices that end in frustration are usually made up of small steps along the way. Over time this accumulation builds up until something shocks you back to reality. Perhaps it was an inspirational book or message. Perhaps it was a movie such as The Secret. Maybe it has been the repeated messages everytime you pick up a newspaper or magazine that says "opportunity".
Personally I know that my life is the result of choices that I made in the past and today I am living the reality of those choices I made good or bad. Don't feel bad. We have all been there and done that.
The difference today is the fact that you have an opportunity right now to make a decision. You can continue to stay in the rut that you feel like you are in or you can make a decision or choice to change. It is simple as that.
I love it when I ask my wife why she changed her mind. She tells me that she is a woman and women have that prerogative to do that. Interesting!!! I have adopted that saying for myself when she ask me why I changed my mind. Together we could say as humans that it is our privilege or prerogative to change our mind.
You are invited to come back and read Part III.
All the Best
Cleveland McSwain