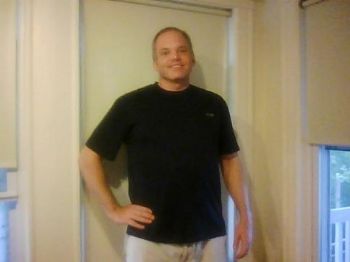 My little heart is broken ... and all my theological studies, academia and otherwise, be damned because for the life of me, in my humanity, and at this very moment, I cannot understand the death of this kind and loving human being whose gentle spirit touched the hearts and lives of so many ... Through tears I denied the words that I was reading early this morning ... Hoping against hope that the post from CJ (CJROMB) was a mistake .. Perhaps there's another Pat Collins who died suddenly of an apparent heart attack --- Not "our" Pat who was much too young at 40, too healthy and too damned good a human being to die ... My son, Tom, is but a few years younger than Pat and Pat reminded me of much of him -- a kind, beautiful and gentle soul ... But dammit, don't y'all know that y'all aren't supposed to die before us???? You're just not allowed. We are supposed to go first ... We are older than you --we have lived our lives ... I mean, isn't there a law, an edict or something written to that affect somewhere???? I am desperately trying to make sense out of something that makes absolutely no sense... I know in my heart, in my very soul, that this is the cycle of life -- This is how it is all destined to be -- this is how it all works beautifully, Divinely, wonderfully. I get this, truly I do -- Big Time ... and, I must say, for some reason, Pat's death defies these precepts ...
And so today, I admit that I am selfishly crying the loss of a Precious Spark friend whose life perhaps would not have touched mine but for this thing called The Internet and Spark.... something for which I will be forever grateful... I am saddened because I have already missed Pat's almost daily Sparkmails that exuded a childlike innocence and inquisitiveness -- a genuine love for his family and friends; a shared love of diving, astronomy, computers, and recently, classes on sailing; he was committed to getting healthy and he possessed a zest for life in which mediocrity was not accepted ... Pat enjoyed his life and shared his love of life each and every day of his 40 years as if it were his last...
As this day has unfolded and in search of an appropriate tribute and honor to my friend -- OUR Spark Friend, I am choosing to see the beauty and blessing in this gentle spirit and his short time on Earth ... and even though the tears still flow and my little heart heavy, I know Pat was scuba diving when he died -- something he thoroughly loved and enjoyed -- surrounded by people who adored him as much and perhaps more as I did. There is solace in knowing that Pat didn't suffer ... He left the world as gently as he lived it ... And as I think of it, It just doesn't get any better than that.
Not only was today a day of sadness, it also is a day of celebration, of joy and counting our blessings as we are reminded to live as Pat lived.
And this evening, under Pat's tutelage and direction from Sparkmails past, I will search the sky to locate the brightest, most brilliant star that "sparkles" most brightly because that will be confirmation that Pat is continuing his journey amongst Pleiades ... Taurus ... The Big Dipper -- connecting in the Heavens what brought him so much joy here on Earth -- just now with the best seat in the house!!
It just doesn't get any better than that...
God Bless You Pat. Rest In Peace, My Precious Friend.