Photographs as Motivation
Saturday, August 16, 2008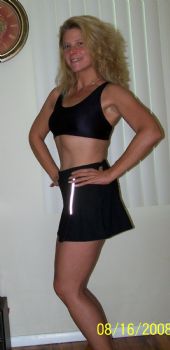 One way I have kept myself motivated is taking pictures of myself. I used to run and shy away from the camera but, I have become such a Ham! It is amazing to see my body transform in photos.
Seeing my weight loss, and my muscles grow in photos has been a great way to motivate me and keep me working hard. When you see how your efforts have been paying off, you will be more likely to keep with it. I know it helps me. Sometimes I can't believe it is ME in the photos! How did I do that? Oh yeah, it's been all that hard work you do finally paying off! Yeah Baby!
Whatever stage in your journey you are at, document your progress with photos. Each month take a new photo, You will be happy you did. Believe me. Try it.
And I just figured out how to use the self-timer on my camera. It's only been 3 years since I have owned the darn thing! I have mentioned I am a true blonde, right?
Weezer: Photograph...
www.youtube.com/watch?v=
XsfDbQ0brTw