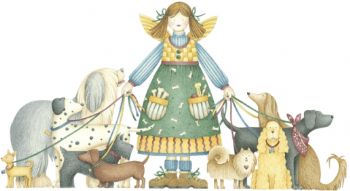 In this House (Author unknown)
Here in this house...
I will never know the loneliness I hear in the barks of the other dogs out there".
I can sleep soundly, assured that when I wake my world will not have changed.
I will never know hunger, or the fear of not knowing if I'll eat.
I will not shiver in the cold, or grow weary from the heat.
I will feel the sun's heat, and the rain's coolness, and be allowed to smell all that can reach my nose.
My fur will shine, and never be dirty or matted.
Here in this house...
There will be an effort to communicate with me on my level.
I will be talked to and even if I don't understand, I can enjoy the warmth of the words.
I will be given a name so that I may know who I am among many.
My name will be used in joy, and I will love the sound of it!
Here in this house...
I will never be a substitute for anything I am not.
I will never be used to improve people's images of themselves.
I will be loved because of who I am, not someone's idea of who I should be.
I will never suffer for someone's anger, impatience, or stupidity.
I will be taught all the things I need to know to be loved by all.
If I do not learn my lessons well, my teachers will blame themselves, not me.
Here in this house...
I can trust the arms that hold, hands that touch...knowing that, no matter what they do, they do it for the good of me.
If I am ill, I will be doctored.
If scared, I will be calmed.
If sad, I will be cheered.
No matter what I look like, I will be considered beautiful and known to be of value.
I will never be cast out because I am too old, too ill, or too unruly, or not cute enough.
My life is a responsibility, and not an afterthought.
I will learn that my humans can almost, sometimes, be as kind and as fair as dogs.
Here in this house...
I will belong.
I will be home.
I just had to share this with everyone !!!!! I loved it
TO: GOD
FROM: THE DOG
Dear God: Why do humans smell the flowers, but seldom, if ever, smell one another?
Dear God: When we get to heaven, can we sit on your couch? Or is it still the same old story?
Dear God: Why are there cars named after the jaguar, the cougar, the mustang, the colt, the stingray, and the rabbit, but not ONE named for a dog? How often do you see a cougar riding around? We do love a nice ride! Would it be so hard to rename he "Chrysler Eagle" the Chrysler Beagle"?
Dear God: If a dog barks his head off in the forest and no human hears him, is he still a bad dog?
Dear God: We dogs can understand human verbal instructions, hand signals,
whistles, horns, clickers, beeper s, scent ID's, electromagnetic energy fields, and Frisbee flight paths What do humans understand?
Dear God: More meatballs, less spaghetti, please.
Dear God: Are there mailmen in Heaven? If there are, will I have to apologize?
Dear God: Let me give you a list of just some of the things I must remember to be a good dog.
1. I will not eat the cats' food before they eat it or after they throw it up.
2.. I will not roll on dead seagulls, fish, crabs, etc., just because I like the way they smell.
3. I will not munch on "leftovers" in the kitty litter box, although they are tasty.
4. The diaper pail is not a cookie jar.
5. The sofa is not a 'face towel'. Neither are Mom and Dad's laps.
6. The garbage collector is not stealing our stuff.
7. My head does not belong in the refrigerator.
8. I will not bite the officer's hand when he reaches in for Mom's driver's license and registration.
9. I will not play tug-of-war with Dad's underwear when he's on the toilet.
10. Sticking my nose into someone's crotch is an unacceptable way of saying "hello".
11. I don't need to suddenly stand straight up when I'm under the coffee table.
12.. I must shake the rainwater out of my fur before entering the house -not after.
13. I will not throw up in the car.
14. I will not come in from outside and immediately drag my butt.
15. I will not sit in the middle of the living room and lick my crotch when we have company.
16. The cat is not a 'squeaky toy' so when I play with him and he makes that noise, it's usually not a good thing.
And, finally, my last question...
Dear God: When I get to Heaven may I have my testicles back?
And last but not least
My Dog Lives In This House
My dog lives in this house. You are welcome to come and visit me anytime but we have a few things that you must understand before you visit. You must expect a few dog hairs to stick to your clothes. I vacuum and clean, but my dog lives here too.
You may be leaned on and find him in your lap a few times but he does this because he loves people and wants to say Hello. So if you feel that you are too good for his love then you are not welcomed here because this is his home too.
My dog is well mannered and very clean but if you are one of those people who think all animals are dirty and smell, then go away. You are not the type of person that I care to assoiciate with. If you dont like the sound of barking, then my home is not going to be a comfortable place for you to visit.
Do not expect me to lock my dog in another room during your visit. I have trained my dog well so he will not do anything to you except maybe want a pat on the head. I will not subject him to feel as if he is being punished by locking him away for no reason. That would be cruel. When you walk into my home, be careful not trip on a stuffed toy or ball. These are my dogs treasures and I will not take them away from him just to show you that I keep a clean house. He knows where all his toys are. They may not look like much to you, but to himn, they are worth more than gold.
You see, this is OUR home. We have been together since he was a small puppy scampering around the house. I raised him into a well mannered, beautifully behaved dog.
I am proud of him. I consider him my personal gift from GOD. He has done nothing but give me his endless love and devotion for many years. I love him dearly and want to make his years happy ones. As happy as he made mine.
When I was sick, he stayed right by my side, as I did his when he is not having a good day. A better friend I could not ask for.
When no one else cared, my dog did. He has given me nothing but pure joy and I love him endlessly. So please understand that I am not being rude. I'm just looking out for my best friend.
- - - - - - - - Author Unknown