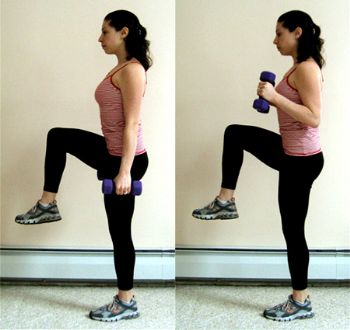 Yesterday I experienced a very proud moment. It was such a small thing, but it made me so happy!
I was in my weekly strength training class, which is pretty rigorous. There are people of all ages and abilities in the class, but it is tough for all of us.
Our instructor really likes to do exercises that work multiple parts of the body at once. Towards the end of class (when most of us were reaching the point of exhaustion) she asked us to do a really tough move.
We did bicep curls with our heaviest weights (mine were 10-lbs) while extending one leg directly in front of us. It kind of looks like the image in this picture, except the leg is fully extended, not bent at the knee. It took a lot of balance, concentration, and core strength.
I was completely beat, but I forced myself to try it. I kept telling myself, "You only have to do this exercise for a little while. It will be over soon." (That is how I get through almost every move in that class...haha.)
Anyways...so I push myself to do the move and I'm pleasantly surprised that I'm actually pulling it off! I look in the wall of mirrors in front of me and I notice that I am the ONLY one in the class of maybe 30 people doing the exercise. Everyone else is just doing the bicep curl part.
As I watched myself and the instructor finish our reps, I realized I have come a long way. When I first started taking these classes I would get light-headed frequently. I had to take several breaks throughout and I could barely finish the class. Now, I am stronger than ever, and I am doing things that I never thought I could do.
I need to keep that image in my head for times when I feel weak or insecure. :)