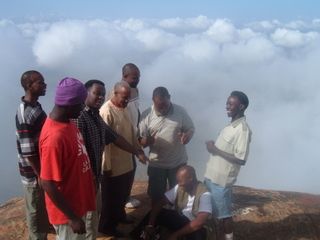 This is a beautiful photo that I had to share with you. It was taken from a higher altitude. The whole journey we are on is going up the mountain of the Lord. There were things I used to get away with at the lower levels. God just won't let me get away with them any more. With knowledge, comes accountablility.
So today we look at our lives. We let God turn on the light to what He wants us to let go of. There is a reason I became overweight. There was a definate time when my attitide towards food changed. I am so done with just chopping off the dandilion like a little child wanting to give mommy a flower. It is time to grow up and dig out that root that has kept me from total freedom.
The assignment is to write down- you may need to pray for revelation- the time your relationship with food became distorted. I already know and want to share the short story of that event:
I was molested by a stranger at the age of 12. That event was kept to myself for 6 years. During that time I started hiding from the shame by eating. It became a horrible cycle that I didn't really understand until I let God touch that wound. So now I want others to experience that same freedom.
This scripture came to me and I feel like it is for someone who will read my blog:
"To give them beauty for ashes, the oil of joy for mourning, the garment of praise for the spirit of heaviness; That they may be called the trees of righteousness, the planting of the Lord, that He may be glorified. And they shall rebuild the old ruins, they shall raise up the former desolations, and they shall repair the ruined cities..." Isaiah 61: 3, 4
This is the Divine Exchange. You go to the Lord. Ask Him for revelation to uproot the weeds keeping you from your victory. He gives you beauty for ashes. The repair of the ruined cities is the restoration of our relationship with food the way God originally designed it to be.
It is time! Let go of the past habits that brought the shame and hiding. That is exactly what Adam and Eve did in the garden. They fell and then hid from God- like God didn't know where they were....... He knew. He just wanted them to come clean. Today is the day of freedom, if you will allow it.
God also showed me one more thing. The freedom is not something you take for granted. It is a daily process. It takes time for the freedom we have today to continue. Why?? Because we want to take back the chains that we are so used to. It is like the picture of a tiger who lived in a cage pacing in a circle wanting out. What happens when you let him out? At first, he wanders in circles, because he has become accustomed to the prison.
We not only need freedom, but the time to become acclimated to that freedom. The good thing about the process is that God is never disappointed in the speed at which we go. He is so patient with us. He understand our weakness and loves us the same. He just waits for us to say when.
Mary