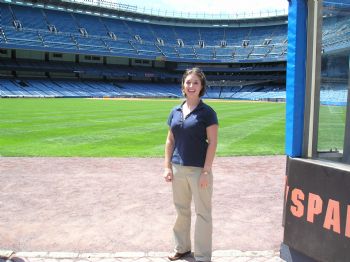 This upcoming week is going to be really very hectic.
Today I worked an extra hour because there were people in the store after we were supposed to close. In that hour I sold more than $500 worth of beautiful jewlery. Yay! Today, over 9 hours, I sold over $1200 worth of stuff. I'm happy.
Tomorrow I will be doing something very cool. I'm booked on the TV show "Without A Trace." I get to shoot on the Lower East Side of Manhattan beginning at 11 AM. I'll post details on Thursday.
Yesterday was pretty wonderful. My father's birthday was on Wednesday, but I had to work so we had an abbreviated celebration. My mother and I decided to do something very special, so I woke up at 6 AM, left the house by 7, and were in the Bronx by 8. We waited on the line until 9 when tickets went on sale and held our breath.
Well, we got the tickets we had been waiting for: The Yankee Stadium Tour!!!
It was incredible. We were in the press booth. Monument Park. The Warning Track. We walked the outfield. The First Base Line. We were in the Yankee Dugout! We went into the locker room!! (No ball players in there ladies- sorry!) It was amazing. The look on my father's face was worth losing sleep.
The picture at the top of this blog is me on the warning track of my Stadium.
***
I hate to go from such a fantastic high with Yankee Stadium and Without A Trace to such a low, but I feel very strongly that I shouldn't sugar coat things.
When I was a kid, I went to a camp called Summer Institute for the Gifted- SIG for short. It was specifically designed for kids like me who were very smart and had a hunger to learn. These summers provided not only new friends, but the comfort in knowing that there were others like me who were academically gifted and didn't fit in at school. We were the academic outcasts who really bonded for 3 weeks where we ate, played, learned, and conspired together. The people I met at SIG are still some of my closest friends and the people I know would have my back in 1/2 a heartbeat should I ever need it. They are my safety net.
There were all sorts of us at nerd camp. I fell into the cooler of the nerds, but there were the true brainiacs who studied quantum physics for fun and those who knew more than the professors.
One of my final summers at SIG let me cross paths with a young man named Pavlo Levkiv. Pavlo was very small and very blond and had noticable trouble walking due to CP. Pavlo was also brilliant. Not in the 'oh he's so smart' kind of brilliant. We're talking the 'Excuse me college professor, but I believe this can be done quicker, more efficiently, and above all, correctly another way. Let me show you' kind of brilliant. He chose his words carefully because they did not come easily to him, but he was always kind. The was Pavlo's way.
Our paths crossed in high school when I was a senior and Pavlo a freshman. I would talk to him in the hallway. Pavlo was not defined by his CP and I didn't see him as a victim- I saw him as simply Pavlo. Others, however, didn't share this view. I can't tell you how heartbreaking it was to hear, "Why is she talking to the retarded kid?" Little did the others know that little Pavlo could run circles around them in the classroom.
Pavlo ran (literally), too. He joined the track and wrestling teams in high school and went on to attend a wonderful college. His facebook picture has him rock climbing. Remarkable. Absolutely remarkable.
Last Saturday, Pavlo went down the Shore with his father and went for a swim. This was nothing new. However, we've been having some terrible weather over here in the north east and the undercurrents were rather strong. Pavlo got swept up in one of them. His father jumped in to save him, but to no avail. My little Pavlo passed away from accidental drowning at the age of 19.
Since we hadn't been in contact for years, I had no idea until I read about the incident and the funeral in the local newspaper.
It was terrible.
For more information about Pavlo's incredible life, feel free to click:
http://www.nj.com/starledger
/stories/index.ssf?/base/n
ews-4/1217910971123300.xml
&coll=1&thispage=1
You'll be missed, Pavlo.