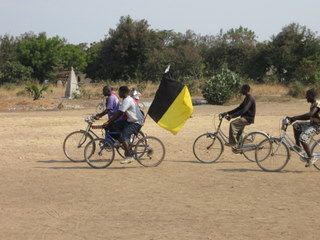 The photo is from the last ministry trip. It looks like a race, but it is just life in Africa.
"Create a special notebook or journal section for recording your favorite foods. When a food thought crosses your mind, remind yourself that you don't have to act on it. Instead, write down the name or even a description of the food, and then anticipate the pleasure of eating it sometime in the future." 100 Days of Weight Loss, Linda Spangle
Today
I am adapting this for Sparkers. We can use our blog entries to write down our favorite foods. Make a list of foods that you most often crave and cave into:
1. Popcorn
2. Nuts
3. Pizza
Take the time to consider how often you will allow yourself to have these foods. Be realistic with your expectations. Don't say, "I will never eat pizza again". I don't really have a huge problem with this anymore, because I learned to let these foods be my special treats to share with my hubby or have occasionally.
The goal is to stretch the times farther apart. After a while you may realize that you don't crave these foods as often as you once did. That is what happened to me.
I used to have a huge craving for fast food. Burger King, McD, Taco Bell, you name it, I was eating there. At one point, I was eating fast food at least 5 times a week.
You can look at my food tracker and see that fast food is a rare treat. Don and I usually eat out one day a week- after church on Sunday. That is not going to cause a setback. It is a planned treat. That is the best way to enjoy the foods that try to control you. Plan them. Don't let food be the master. You become the master over food.
God has called us to overcome the appetites of the flesh. Here are some good verses to meditate on for today:
"When you go out to dinner with an influential person, mind your manners; don't gobble your food, don't talk with your mouth ful. And don't stuff yourself; bridle your appetite." proverb 23:1,2 from the Message version
"For if you live according to (the dictates of) the flesh, you will surely die. But if through the power of the (Holy) Spirit you are (habitually) putting to death (making extinct, deadening) the (evil) deeds prompted by the body, you shal (really and genuinely) live forever. For all who are led by the Spirit of God are sons of God." Romans 8:13, 14 Amplified
"Everything is permissible (allowable and lawful) for me; but not all things are helpful (good for me to do, expedient and profitable when considered with other things)" 1 Corinthians 6:12 Amp
"A man is a slave to whatever has mastered him." 2 Peter 2:19 NIV
"Let your moderation be known unto all men...." Philippians 4:5 KJV
"So then, whether you eat or drink, or whatever you may do, do all for the honor and glory of God." 1 Corinthians 10:31
Selah- Think and ponder on these until they become part of you
Mary