I want to be overweight!
Saturday, August 09, 2008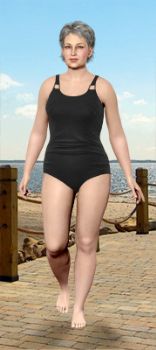 I want to be overweight, and in another 13 pounds I will be! I will be saying goodbye to obese for good at 163 pounds according to my height of 5'2".
It's a mile-mark for me and I am just so thankful it is almost within my reach! Another 2-3 months and I should be there.
I hope that many of you will be soon joining me as overweight instead of obese.
I realized yesterday that my too-small pants (4 pair, 2 new) are now getting too baggy! Oh what a travesty that is! I just barely got back into them at 188 and now at 176 it is almost time to move them on to baggy-pants heaven. I tried on a pair of spandex that I never could wear and they fit!
I would say I am having a fantastic day today! My virtual model is me at 165 and "just fat".
Linda