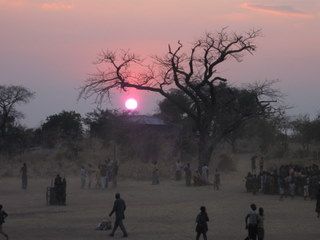 Isn't the photo of the sunset beautiful??? God set boundries for all of creation. It makes sense that He would give us guidance for our eating and exercise too. There is no magic pill or food that will make our excess weight just drop off suddenly. It is going to take time and wisdom.
Day 4 ~ Boundaries, not diets
"Picture your diet program as a road or a path. You can define the boundaries of your diet road based on the number of calories, points, or other factors you choose to follow. As you walk on the road each day, your goal is to stay between the sides of the road." 100 Days of Weight Loss, Linda Spangle (Thank you Patricia)
Remember that we are not starting something that has an ending. That is where we end up getting off to start with. We look at a certain weight as being our goal and put our effort into getting to that weight. Then what happens? I know what happened to me the last who knows how many times. I get to that goal and life does not suddenly change for me. I still have to get up in the morning and eat right. There is a let down that Ed McMann didn't come to the door and tell me that I won a million dollars because I reached my goal. The goal in this is to get healthy!! To bring Glory to God in all that we do!!!
How do we achieve this???
Instead of setting strict rules, you set boundaries! This is a principle set by God. Look at Ps 104:5-9, "You who laid the foundations of the earth, so that is should no be moved forever, You covered it with the deep as with a garment.......vs 9 concludes the thought, "You have set a boundary that thy may not pass over..."
Your boundaries will be narrow when you are focused, yet they will be wider when you are maintaining.
The results when you set your rules so strict and you "break" them. It is like saying, "I will never eat chocolate". What are you thinking about right now- CHOCOLATE!! Then you feel bad when you do eat chocolate and end up in a cycle of making poor choices because you feel like you messed up.
Today
We are going to draw us a road map! (I know gonna be kinda hard to do this on our blogs, but we CAN do it!) Make a column for "Narrow Road" and a column for "Wider Road". Now, think about how you could define your narrow road compared to your wider road.
Under each of the two columns make a list of your eating and exercise plans for that particular road. Include types of foods, amounts, and locations for eating them. Also, write down your exercise plans for both columns.
Narrow Road
Min. of 60 minutes 6 days of week of cardio.
Keep white carbs down to a minimum.
Snacking after dinner needs to be healthy
Wider Road
Min. of 30 minutes 5 mornings each week.
Allow myself to give into that small craving for something that has white carbs occasionally. Keep the treat within the calorie range for the day.
Allow myself to realize that my body does have limits (just like these boundaries) and I can only push it so far, before it rebels.
Now, decide on ways you can be flexible with each of these boundaries without losing sight of the healthy road you want to follow.
The idea is to stay on the narrow road 80% of the time. Choices made today will affect the way I look tomorrow. Do your best to plan when you will take the wider path choices. The road is still heading towards health, it just takes longer to get there.
Psalm 119:105 says it all, "Your Word is a lamp to my feet and a light to my path."
Let's bring our choices to God today. Pray and ask Him for wisdom for every choice you make. He is faithful to give you light where there is darkness. He can even show you which foods may be keeping you from losing weight. He did that for me. White carbs are the key for me to lose weight. I eat too many the weight stops. God is no respecter of persons, so you can ask and He will answer.
Jeremiah 33:3, "Call to Me, and I will answer you, and show you great and mighty things, which you do not know."
Mary