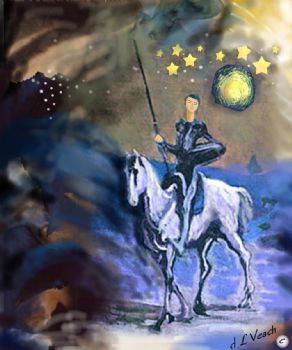 The picture is a painting I did, reworking Honore Daumier's "Don Quixote". It reminds me that "impossible dreams" sometimes have to be tweaked and refined along the path of pursuit in order to reach them...dreams of growth and change and renewal. I went to an Art Crawl last night. 4 new galleries have opened in the downtown area just blocks from my apartment. I've been researching and writing about the "renewal" efforts that are taking place in the old inner core of the small city where I live in Northeast LA., and this is an encouraging sign of life...(not to mention more stuff for me to write about...
I got to meet with a man who has invested heavily in the rennovation of several old historic buildings in this area, (one among about 5 private investors that I've stumbled on so far) and he took me through a stunningly lovely building overlooking the River that is to become an upscale restaurant , bar and live music venue in just a few short months. It won't be a place that my meager budget will be able to afford, but it looks like it's going to be an enticing new asset for the city's cultural and economic growth.
Richard Florida has written about the process of urban renewal in books such as "The Rise of the Creative Class", documenting the way that artists and other creative types often form the "first wave" of renewal in a city, since they aren't afraid to move into older, "less desireable" segments of real estate, investing ideas, sweat equity, and whatever money they can come by, to carve out space to work, live, and exhibit. Eating establishments and other service industries ultimately follow, and "renewal" begins. Creativity isn't limited to the "arts", though. Similar processes have occurred with centers of technological, scientific, and commercial creativity, such as Silicon Valley, Austin, TX., and Atlanta, GA. Anyway, I see hopeful signs of emerging life in a region that has long had little to commend it to industry as a place to invest in, build businesses in, and relocate their employees to.
Meanwhile, on the personal front, my uncle has agreed to move in with my mother and brother...that ought to make for something of a simmering volcano with the relationship between my hot-tempered brother and equally hot-tempered uncle. There will have to be personal character growth on someone's part in order for them to not destroy my mother in the crossfire. I have to go down to my Mother's place next week for a couple of days to help move the "office" out of the bedroom into which my uncle will move, reconfigure the computer system in Mother's room instead, and generally offer her "moral support."
As for me, I restarted baby steps in exercise this week with 3 slow 15 minute sessions on my Nordic Track. (for about the 35th time in as many years) Every time I "start over", I am able to do less and less because of the aging and illness process, but to be able to begin at all is a glorious gift. I used to become so discouraged whenever I went through the "relapse" phases that meant that once more, I had to back off the exercise or stop it altogether. Now I can tell myself that I'm just taking a "pit stop", and I will be able to resume the race when the engine has been overhauled. I've battled severe muscle weakness and painful spasms/cramps for years, causing doctors to try to add MS to my list of autoimmune conditions, but tests have always been "inconclusive", so I keep doing what I can do. I came to a "new" conclusion this week though: I am no longer pursuing weight loss as my primary goal. I am just trying to stay out of a wheelchair. I believe weight loss is part of that, but immune system care through nutritional, cardiovascular and muscular/neurological fitness is my primary emphasis. Staying the course day by day is my "impossible dream".I'm glad to be alive and able to keep learning! Have a great day, friends and neighbors!