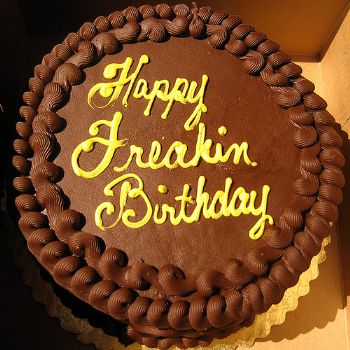 And now the continued saga of the fat chick. Being without a car makes it hard to shop for birthday stuff at the last minute. So the night before the party, I called mom in law to set up shopping in the morning. She agreed and then told me that step-father in law was missing his grandson's birthday party again, for the second year in a row now. Whatever, I didn't have time to deal with it, I still had to clean the house to get it ready, and work on the cake. But by the time I finished cleaning up the house, I realized it was too late to bake his cake and cupcakes. So I decided that I would throw them in the oven either 1st thing in the morning, or as soon as we all got back from shopping.
The next morning, just as we are getting the kids set up for their breakfast, mom in law calls and says she is on her way. Great…now she shows up early! We still haven't showered yet, and were still in the process of feeding Camp and Tay breakfast. Since it only takes one person to deal with breakfast, I head up and take a shower before she gets here. Between the showering and getting dressed, I think I set a new world record. Matt wasn't so lucky in getting showered and dressed before his mom got here. I came downstairs to see her sitting on the couch playing with a toy (couldn't tell you why). Earlier that week, I put the nursery rhyme up in Campbell's room and put their names on their doors, so I told Mom in law to go up and take a look at them. Since Matt thought we were missing pieces of the crib, we still didn't have it put together yet. So when she went upstairs, she noticed this….that wasn't the only thing she noticed…Matt left the bathroom door open as he showered. Oops. I figured she would just look at the rooms and then come back downstairs with Matt so we could leave and get back in time for the party. At this point, since I thought we were taking off, I decided to wait to bake the cake till we got home, since it takes over 30minutes and the oven wasn't even preheated yet.
After about 15minutes of waiting, I take the kids upstairs to see what is taking them so long to come back down. I got to Tay's room to discover them assembling her crib. If I had known they were gonna choose that moment to work on it, I would have turned the oven on to bake the cake. I asked them how much longer they were gonna be, and if I had time to bake the cake, cause I needed to have it done before the party started, so it would be cool enough to frost and decorate. They told me they were almost done at that point, so I put off the cake even longer. Since they said they were about done, I stayed up there with the kids. About 15minutes later, they were still working on that damn thing, but they were at the tail end of it. Finally they finish, and we take off to the store. None of us have bought our gifts for Campbell yet, plus I needed wrapping paper, and other necessities for the party.
Get into WalMart, and it's a zoo of shoppers, but we are all on a mission. First stop….cards and wrapping paper, since he likes Winnie the Pooh, I grabbed both with a Pooh bear design. Figured it would be ok, since he was having a Blue's Clue's cake and Mickey Mouse cupcakes. Moving on, we get to the toys, I try to pick out the quietest toys, but it didn't matter much compared to what everyone else got him. Trying to stay stress free in Wal-Mart, while on a time limit isn't easy, add in the frequent calls of sister of law asking to pick her up for the party turns it damn near impossible. We finally finish up and head to the cash register, only to find out mom in law forgot to get a card, so I bolt from one of the store to the other to grab it for her. The second I get back to hand it to her, the cell phone is ringing again…gee wonder who that could be. "Are you picking me up for the party?" It's the same thing she has asked at least 5 times now. We load up the car and take off, unfortunately its after 1pm now…the party should have begun at this point. We get another call…shockingly it's not her, its dad in law instead asking where we want the table and chairs. Hmmm if he is done dropping things off at the house, he can pick sister in law up and bring her, and that should reduce my stress. It's as if she knew I was thinking that, cause she called AGAIN! Only this time we tell her to call her dad and ask him to pick her up.
We get home, and I do a mad dash to the kitchen to get the oven on. Since Taya fell asleep in the car, she went up to her just assembled crib to nap. I begin baking and getting food set up to go outside when I hear Matt call me from the front door. "We have to leave again, can you stop what you are doing to watch Campbell?" Are you kidding me!?!? All morning I've been telling him how I needed to get things done in the kitchen. So I asked him if they were just going for ice, why can't they take Camp along for the ride. They do. I go back to the kitchen and check the temp on the oven. Doesn't seem to be any warmer, maybe its just a slow warming oven, I don't think anything of it and move on to the eggs.
-It's too quiet, so I grab the laptop and throw on some music, might as well get a workout in while I am stressing on time and getting things done. Just as I start rocking out, dad in law shows up, so I once again have to stop what I'm doing again and show him where to put the table and chairs (yea cause walking to the backyard and picking a spot by himself was just too hard). Then I see that they aren't leaving to get sister in law….why???? Maybe she decided not to come after all…no I'm not that lucky. Well I don't have time to think about that right now, with them sitting outside, the party has officially begun and no birthday boy. I throw Ritz crackers and some chips on a plate and take it outside so they have something to snack on in the meantime. I decided to ask them about picking up sister in law and they told me that mom in law was picking her up. Wonderful! Something else to take them longer from getting back.
-I head back inside to get more done, I once again check on the oven and its still not warm…what the hell?!?! Screw it, I don't have time to wait, so I throw the cake in there and hope it bakes in time. While the cake is in the oven, and the eggs are cooking on the stove, I figure it was as good a time as any to get the cupcakes going. So I start pouring cake batter into each of the little paper cup things (such a pain in the ass). As I finish up, Matt and mom in law get home with the birthday boy…and what perfect timing it was, because Taya woke up from her nap then too. So now the party has officially begun, and I'm still working in the kitchen, and if that wasn't enough stress, I still had to wrap presents…and not just the gifts we bought him, but the ones mom in law got him as well. I make another trip outside with more food, and try to recruit some help. Didn't happen. I even asked sister in law to come in and grab the highchairs, but apparently I was too far away for her to hear me, a whole whopping 3 feet away. So I head back inside…alone of course, and as the eggs are sitting in cold, blue water, I start to wrap everything. As soon as I'm done with that task, I have to start working on the eggs. How fair to keep the fat chick chained to the kitchen all day, and of course it's the middle of July, so I'm sweating buckets. Just as I finished them, and think "cool, I can head outside and grab a beer and relax for 2 minutes"…….EHHHHHHHH! Wrong! I take 2 steps towards the door and the timer goes off for the cake…so I rush right over, and fling open the oven door, only to see a cake tin, full of unbaked, completely raw cake batter. I swear I feel a twitch developing at this point.
I have yet to enjoy any part of my son's birthday party, and it looks as if I will have to wait longer. I go outside and notify everyone that the oven is broken, and that I need to go to the store for an emergency cake run. Couldn't get sister in law to help bring out the highchairs, but she was first in line to drive me to the store. I forgot, I suddenly can't drive myself, that must be why she volunteered. (insert eye roll here). I get the keys from mom and law and Matt and I take off for the store. We get there and head on back to the bakery, and there are literally NO options, so we grabbed the only cake big enough to serve everyone that had blue frosting, we even had them add his name to the cake, to personalize it. I was thinking about getting some premade cupcakes too, so I could still pull off the Mickey Mouse cupcakes…none…and I asked about them. None in the whole store. At that moment we both realized that we didn't get the balloons blown up in time, so we get him a mylar balloon, with you guessed it Winnie the Pooh. Seems kinda fitting for the day, it was turning to crap right before my very eyes.
Anyways, we get back home and I can finally sit down and have some alcohol. We bought Bacardi Raz and Strawberry Daquiris wine coolers in addition to the beer. I was the one who wanted the Raz, so I get to the cooler and there is one left. What else can go wrong. Grab the drink and sit in one of the chairs (4 chairs for about 10 people) only to have to stand back up again to get food. When we all finished eating, we saw that Camp is a mess, so why not make it worse and serve him cake. Remember the blue frosting I mentioned earlier…well, after he dove right in, and ate a few bites, he chose to war paint himself with frosting. It was in his hair, all over his face, hands, chest (he was pulling a studly topless moment), everywhere. Well there was no way he could open presents like that, so since mom in law encouraged him, I told her she can give him a bath. Not only was the blue not coming off of him, but it even turned the water blue, but after much scrubbing, my child came back outside clean (somehow).
Campbell start to open presents, and he gets his quiet toys from us, and then it happened, the next present, noisy. It doesn't stop there either, gift after gift of noisy toys. Finally we finish with the presents and it looks as though the party is over, but my day is not. All I wanted to do was spend time with my kids outside and relax, but that is when sister in law's baby decides he is gonna cry and I'm the one stuck soothing him. It wasn't too bad though, at least while I was doing that, everyone else started to pick up the mess. And they all left it for me in the kitchen, where there was already a large mess. Took me all night to clean up, but at least I was burning calories right. Well that was the birthday fiasco, and as stressful as it was, I know Campbell had a blast. So we are moved in, and the party is over and my life is finally getting back to normal.