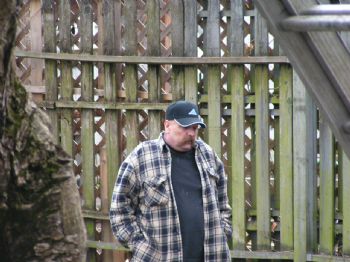 I have been absent for some time now and feeling closer to being ready to come back. Its not quite there yet, but I'm getting closer.
Most of my friends on SP know that my Daddy was very ill with cancer and that I was spending as much time with him as I could. GOD allowed me to spend some very special time with him before he took him home. My Dad's battle with cancer ended almost one week after my son turned 1. He had acquired another terrible infection and doctors ignored our concerns with symptoms we verbalized. The infection was so bad, doctors gave him 2 months and it wasn't 3 days. The infection took his life, and not the cancer that had been in his lungs, liver, bronchial, and brain. He beat the cancer!!!He fought a long, hard battle!! He will forever be my inspiration and HERO. He went to be with GOD exactly the way he wanted. He was home, family around, BBQing going on and the laughter of all our children. Just before he left to be with GOD, he puckered up his lips for a final kiss with my mom. He took two breaths and was gone. I wasn't able to be there for his final breath. I was only 10 blocks away and driving like a maniac. I had been fighting with DH the night before. I will not go into detail. I will tell you this: if you are fighting with a loved one who has an addiction--- the addiction usually wins.
A day after my Dad passed, my niece went spastic---biting, kicking, throwing metal horseshoes, rocks and a 25lb wooden lawn chair. I was bit over 7 times and it resulted in her being placed into another foster home and then another and another until she was just placed into yet another treatment facility for her emotional and physical disturbances. Talk about STRESSED OUT!!!! Then I turned around and got a Urinary Tract Infection that spread to my kidneys. OUCH!!!
Today 8/3/08 I am at my moms house, separated from my DH and helping nurse my mom back to health after having a kidney stone removed the size of a golf ball....It just keeps getting better these days. LOL
I firmly believe that the separation with DH is going to result in Dissolution of Marriage. My Dad told me, before he passed, that "You cant fight a bottle". He had a lot of love for DH and DH continued on this path of destruction. I WILL NOT!!! I am stronger and I will overcome this lifestyle that has consumed me into depression.
I miss my Dad, and I will never forget him. I love him with all of my heart and will miss him and mourn him forever. The time I had with him was not enough, but will be cherished for the remainder of my life.
Rest peacefully Daddy 02/05/55-6/23/08
I LOVE YOU!!!
For all of my SP friends: I miss you and love you! I will be back, I promise. DONT GIVE UP ON ME!!!