New Determination & New Beginning
Thursday, July 31, 2008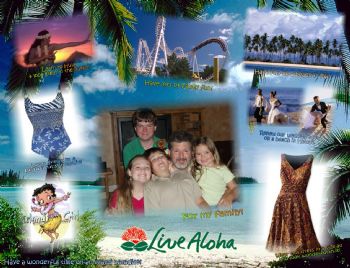 Aloha all my sparkfriends!
I'm sending y'all this message for my own accounability. I figure if I proclaim this "loudly" I'm more likely to stay focused. :) I'm posting this message as a blog, too.
I've really been off track for the past few months. I would have a few days or even a couple of weeks of doing well, and then blow it. The trend seems to be to do well for the first half of each month then blow the second half so bad that I've been taking steps backwards overall. In other words... gaining.
Well, it's time for me to stop that. I've decided that I have a choice to make... either I'm going to lose this weight and reach my goal or I'm not... and I've decided that NOT is NOT an option.
So here I am confessing my blunder and my new determination to succeed and stay focused.
I'll be weighing tomorrow morning. I'm scared to report the number, but that will be my first step... to fess up not only to my bad eating and going off plan so often, but to also fess up the dreaded scale's number. I've not weighed in about 2 weeks... It wasn't pretty then, and I've done really bad lately. But I will post my number as I did when I first began... because I am beginning again.
Well, I've twisted your ear plenty :)
Hold me accountable!
Wish me luck!
and bless you all!
Hugs! ~Renee'
PS... the pic above was my first motivational collage. I've not looked at it in months, but I should have. It represents very good reasons why I'm going to reach my goal. I think I'll make a new one, just for the fun of it and because, well, I am starting over... this is my new beginning.