SHOPPING!
Wednesday, July 30, 2008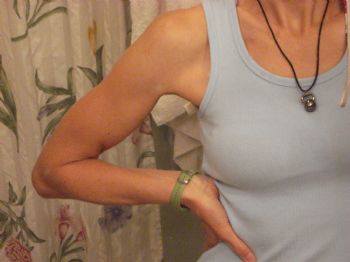 OK, all you KB fans! Run, don't walk (ok, type) your way right over to:
www.giryanation.com
Their "first quality" KB shaped mugs and necklaces are out of stock, the they have "seconds" in each. I bought two necklaces (gunmetal and black - I plan to put one on my keychain) and that awesome mug. Each item was only $10 and the shipping was really fast. There is a tiny chip of paint off of one of the necklaces (which no one will ever notice) and I honestly have no idea why the other necklace and mug were marked down.
Edited to add the pic, showing my HRM (sort of) and necklace. I am not famous for my photography skills. The kids and I joke about the "gun show" at our house. My KB work has made a ton of difference in my arms. I don't have a before picture but, trust me, this is an improvement!