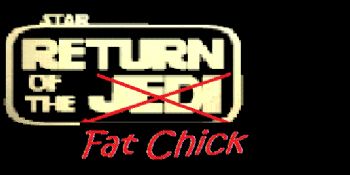 Ok, so no one lost their hand, made out with their sister, found out who their father was, or hung out with those adorable Ewoks (I still want one), but it was still just as intense. I don't even know where to begin, but I guess I could start with "moving day", yea, it's in quotes for a reason. Saturday morning started off so beautifully, the sun was shining, not a cloud in the sky, almost a perfect day for moving, too bad no one else saw it that way. Getting people to the house to move things was like trying to teach a toddler calculus…it just wasn't happening. From one excuse to another, everyone put off helping us, when finally it happened, we got the phone call that said a vehicle was on it's way. However, there was a catch…it was just the Chevy Blazer and we were on our own. What can I say…when it rains, it pours; and that's exactly what happened to us.
It was sometime after 4pm before we actually started moving boxes to the new place. First we had to drop the kids off at their great-gramma's and then we HAD to get something to eat…I could feel myself wasting away (yea right). So anyways, since we only had the Blazer, it was pretty obvious that we weren't going to be moving any of the big items, ok…whatever…we can load up the boxes. I believe Murphy's Law says it best, that anything that can go wrong will, and I am living proof of that. The first load was a breeze (literally-the wind could have knocked over a small child), got the boxes moved over to the new place and went back for a second load. As we put box after box into the car, I thought I felt a few drops here and there, but didn't see anything…so it must be my imagination. Finally the car is full and on to the new house we go. I light up my cigarette (yea I know, bad habit…one life changing activity at a time, and right now it's weight loss), and roll the window down. I am just about to enjoy that first puff when out of nowhere this torrential downpour starts. It doesn't let up before we get to the new house either, so as I get out to start unloading, I am instantly soaked to the bone. Just what I needed, to weigh more! Another load taken care of and back to the old place to get more boxes…I kid you not, the very instant I get back into the car, the rain lets up. It was like that the entire time, it was almost as if someone was sitting on a cloud playing with the sprinkler system, just to mess with me.
Day two of moving, and once again we are stuck waiting, the only difference is, this time people are actually helping out. Matt and I tried to make it easy for everyone, by putting the majority of the stuff near the door, especially when most of it came from upstairs…and wouldn't you know it, it's still not good enough. Apparently when you help someone it gives you a free pass to gripe, bitch, moan and criticize the entire time. I will definitely have to remember that for next time.
Let me tell you, you never really know 100%, how much someone can be a jerk until they help you, and I use the term loosely. Because I am a bigger girl, than I am sure my step-father in law would like, I was given all the grunt work. "Take that load over and stay there and unpack boxes" or "Stay here and pack all the leftover stuff you have". I also heard; "Anything you want moved better be moved to the door by the time we get back or it stays" as well as; "Don't worry about moving things around, to make room, just get those boxes empty". I'm more than certain you get the idea, and it went on all night long. We finally finished up a little before midnight, and if that wasn't bad enough, we still had to get the kids' rooms somewhat organized so they had a place to crash for the night. Chickens with their heads cut off look less chaotic than we did. Running up and down the stairs, to get this and that…I definitely got my workout in that's for damn sure, and the sweat pouring off of me could have filled a kiddie pool.
We are now officially moved in, and at the time had a week to get the place ready for a birthday party. So back up and down the stairs I go again, carrying box after box after box. Trotting from room to room, grabbing things here and there, and unpacking boxes. Doing all of this, while at the time, taking care of two under two, not easy task…let me tell you. Somehow, through all the chaos and hectic-ness (its my word, just go with it), we manage to get the house ready for Campbell's birthday party, and if you wanna know how that turned out, I suggest you stay tuned, cause this fat chick's story is far from over…