WHEN IT RAINS IT POURS!
Sunday, July 27, 2008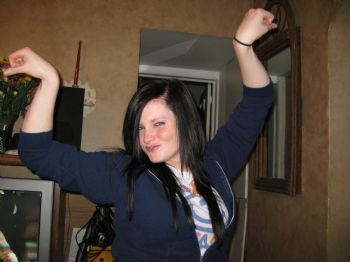 OK, THIS MAY TAKE A WHILE. I KNOW I'M USING CAPS SO OK I'LL STOP.
I like caps coz they are easier to see. Ols age ,Ain't it grand!!
Life has thrown a few curves here lately. I'm hoping that it straightens out and levels off for a while. My infection is almost all cleaned up so that is a plus. I still say the right is going to be smaller thwen the left but it will be months before the swelling is officially down enough to tell. I will always be glad that I had it done coz it has taken so much stress off my back. I actually can stand a little straighter and my upper back rarely hurts. Bravo!! That was the whole reason for the reduction . If it had been for vanity I would have done it years ago.
As some of you know ,my 17 yr old had an irregular pap this year. Now being as I've had Ovarian cancer it really had me upset. So we go back to the doctor for a test called a Colposcopy. Scarry but she got through it and the doctor ended up doing a biopsy. We wait for results. I'm not gonna go into that fiasco , it is to long. Well the results are she has dysplasia. It is a condition that if left to its own devices will lead to cancer. I may take years but it is something that must be watched and treated if it gets too bad. All this crude at the age of 17. I wish I had the bad news instead of her. She has to return in three months for another exam and then wait once again for results. I'm not sure past that point. She will have to have an exam every year without fail for the rest of her life.
It is not that we all don't have to have them but for her to know that there is a condition in her body that could potentially kill her is scarry. Before you ask, She had the GARDASIL shot last year after her first pap and the all clear was given to get the shot. I'll leave you to guess what my thoughts are on that. There are a lot of things I wished I'd known or found out before I allowed the shots to be given.This would take more then a blog to explain so I will leave it at that.
Just the other day I spent the day in the ER with my 23 yr old son who suffers from juvenille diabetes. He went to the doctor with back pain and possible blood in his urine. The doctor sent him to the ER and so there we set. Actually it was the quickest we ever got in. They asked questions and checked his bloodsugar. The nurse said 'He needs an IV and labs. They did his labs and an Ultrasound of his kidneys. I finally got to go sit with him. they gave him a pain shot and we waited for the insulin to take effect. The nurses came in and were talking to him By that time they knew his blood sugar was 712 which is extremely high. They were trying to figure out why he was still walking and talking. He really shouldn't have been . He should have been in a coma or on his way to one. He always has high B.S. I tis something he has lived with and struggled with for 14 yrs. No one has been able to figure it out . They got his B.S down to 300 and felt since he was used to it ,that it was safe to let him go home. Now we need to see our fam. doctor and try to work it around it not being about his diabetes. See his insurance has a rider on it that it won't cover his diabetes for the first year. are you beginning to see the dilema. He of all people need the coverage and can not get it. The doctors at the hospital lecture about taking care of yourself ,but let you go without insurance or miss a payment and that doesn't seem to matter.We don't even know if the insurance will cover the hospital. He went coz he thought he had blood in his urine but the doctor sent him coz his b.S was so high.
So now on tuesday I have to go have a recheck blood test called a CA125 which is a tumor marker that helps tell whether or not my Ovarian cancer may be back. It was elevated 6 wks ago and now has to be redone. I'm sure it is probably coz of my surgery and the fact that I had a staph infection., but the fear is still there. I guess it will be in Gods hands , coz there isn't anything I can do about it. I try not to worry or talk about it, but it is the ever present dropping of the other shoe. I've waited 3 yrs for it to fall and it may be here. I just don't know. I guess time will tell.
AND THIS TO SHALL PASS!