Curbing food waste
Wednesday, July 23, 2008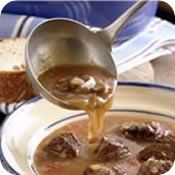 I'm sure we're all guilty of it from time to time: buying items at the supermarket that we never end up using and eventually end up in the trash. I know I'm to blame. Usually I have the best intentions, thinking I'll use something as an ingredient in a recipe I never end up making, or buy a snack that looks good at the time but I never end up eating. Whenever I do go through my periodic "purge" of the refrigerator and cabinets, I always feel guilt over the foods I end up throwing away.
U.S. research estimates that at least 14% of the foods we purchase end up in the garbage (about 96 BILLION pounds of food a year). I think it's safe to say that in many other countries, that number is a LOT lower. I remember a friend telling me about a mission trip she took to Mexico. She was helping prepare meals in a very poor community, and she couldn't believe how little they threw away. They used every part of every piece of food they possibly could, throwing away almost nothing. In the U.S., food waste makes up about 12% of landfill material. As organic materials like vegetables and grains decompose in landfills, they release the greenhouse gas methane into the environment.
So what are some of the reasons we throw away so much? One is that we tend to buy more food than we need to, especially when we shop without a grocery list or become tempted by sales and "buy one get one free" specials. I know that the majority of my food waste comes when I start to deviate from the list I've brought with me. So maybe before you start grabbing items, think twice about whether or not you're going to be able to use it before it spoils, and whether or not you really need it. You'll reduce waste and save money at the same time. Making a list before you head to the store really helps with that.
If you constantly find yourself with leftovers that you never end up eating, you have a few options. One is to make less food. Scale back your recipe to serve 2 instead of 10- that way you'll have less to worry about finishing later. Another option is to freeze the leftovers for later use, or plan to use them in another dish this week. For example, you could use your leftover chicken in a soup or on top of a salad.
Reducing food waste is better for the environment and your wallet, so think before you shop! Do you feel like you keep food waste to a minimum in your household? If you're not from the U.S., are things different in your country?
Here are some articles on SP you might find interesting:
8 Ways to Green Your Kitchen
How to Keep Your Fruits and Veggies Fresh
www.msnbc.msn.com/id/252
15428/
Member Comments About This Blog Post
TEXASFILLY
Thanks for the tips!


3208 days ago

MYTHICALANGEL
Love it, I personally go every couple of days for fruits and veggies


3597 days ago

ANGEDEE
If your veggies are getting a bit old but aren't bad yet - cut them up and put them in a pot with come chicken broth and seasoning. Puree the batch, and you'll have a great soup. Save on waste, and eat A LOT of veggies all at once.


3598 days ago

ANGEDEE
Threw out food today. It usually happens to overshopping...as you said.


3599 days ago

DRINA1984
I know I add to that number because I will buy fresh produce and let it spoil. I always say to myself "I'll cook it tomorrow" but tomorrow never comes. I have chicken in my fridge now that I have to waste because I didn't cook it in due time. I think I'll stick to frozen foods!!!


3603 days ago

ANNAMARIA6
I am from central europe and I was also tought not to waste food. When I was little my family would tell me to think about all those people who dont have anything to eat when I am about to throw food away. Therefore I feel so bad when I have to throw food. My boyfriend's parents do the shopping for us and they buy so many things that at the end of the week most fruits and veg are spoiled. I always give lefover meat to the dog or I freeze it for later to give it to the dog.


3611 days ago



Comment edited on: 8/2/2008 11:49:46 AM
NTXFEM
We try very hard not to waste alot here but occasionally things used to get pushed to the back of the fridge or freezer find myself browsing fridge and freezer more often and the waste and spoilage have been cut down quite a bit not entirely but much better than before-- now when i find something close to its lack of usefulness we either cook it up or freeze or both thanks for the reminder


3612 days ago

LILYLUNA
In Poland our mothers learn kids that wasting food is very bad.
They build in their kids a kind of sense of guilt, similar to the guilt feeling used in potty training.
But as far from WW2 and People's Republic of Poland times, when not wasting food was crucial, because there were very little food on the market, less of them learn that and we are more and more like you (USA).
Mayby this problem is so big in USA because you didn't have or don't remember times when you go to a store and there is nothing else on the shelfs but dust.
PS. Sorry for Grammar and Spelling errors - I'm still learnig English.


3613 days ago

WAKEUP68


you are so right and I am one to fit this category but hopefully will change the habit soon


3615 days ago

SALTYCHOCOLATE
Coach_Nicole, thanks for the clarification about decomposing food vs. composting food. I was surprised to read that when organic matter (fruits, veggies, etc.) goes into landfills it creates greenhouse gases. However, you clarified that the organic matter needs oxygen, which it doesn't get in the landfill, in order for it to turn into compost. We have a compost bin, but I don't always use it because throwing out food is easier and faster. I have to work on not being so lazy. Thanks!


3619 days ago

GLOW8211
Thank your for sharing. I was just looking in my cupboard today and saw things that had expired and needed to be thrown away.


3620 days ago

GENIADR
Thanks for the info, it is always the celery that gets thrown away but then I continue to buy it over and over again.


3620 days ago

RUSSELLORAMA


Food waste is definitely at a minimum in my house. My husband jokes that I can make soup or stew out of anything! If we have leftovers that I can use, I try to recycle them into another meal. With food costs climbing, it just makes sense for the budget.


3620 days ago

HDPNLYNN
Thanks for the info,I'm defiantely one who wates food! Lynn


3621 days ago

CARLI_MAE
Another interesting thing that's happened is how foods are sold now. I remember stopping in individual stores as a child with my mother on the way home from school. When you bought a chicken, you knew it was as fresh as could be (they were live), and the butcher would do his thing, and wrap it along with all the various parts. Mom used everything ... neck, gizzard, liver, kidneys, heart. And fish - we used to prepare the fish head, tail, and all. The head was considered a delicasy. Now the food industry (at least here in the U.S.) removes all these parts from things -- a few being sold separately, but most ending up wasted.

I've gotten much better about the food that goes to waste since I've been on Sparks. My one downfall is sometimes buying produce with the intention of doing a lot of big batch cooking and freezing in portions, and then getting sidetracked and having things spoil on me for lack of time. And you bet, I can almost see the $10 bills going into the trash can! Ugh!


3621 days ago

JOHNBABJR
We're working on preparing less. Not only is throwing out food wasteful, but it also gets expensive.

We are watching this much more closely. We're getting better.


3621 days ago

APPLEPIEDREAMS
Thanks for the blog entry. I know I used to do this a lot more. When I was a kid I would go grocery shopping with my mom who was buying for a family of five. I had a tough time transitioning to not overbuying and realizing that just because I was used to pulling the gallon jugs off the shelf when I was with my mom, it didn't mean I should be buying a gallon when I am just shopping for myself.


3621 days ago

ILOVEAARDVARKS
I know I am going to start today reducing my food waste. I was just thinking about this the other night. I am going to try picking up a couple of needed items every couple of days and not 'stock up'. For me, I tend to buy 2 or 3 of something just in case I will need it. Thanks for the reminder that not only is it a waste of money and good food that someone else can eat, but it sits in the landfills!

Good for you for raising awareness!


3621 days ago

HATCHETTJOB


Thanks for this! When I clean out my fridge, I feel like I am throwing money away.


3621 days ago

RSTATHIS
Your idea to "stick to the list" makes great sense. I'm going to redouble my efforts to do just that! Thanks.


3621 days ago

COACH_NICOLE


"As organic materials like vegetables and grains decompose in landfills, they release the greenhouse gas methane into the environment."

That is one of the major reasons why I have a compost bin in my backyard. Landfills are also so packed, that the oxygen needed to break down food isn't available, so they are unable to break down like they would in nature. I highly suggest composting your kitchen waste (fruit, vegetable scraps) and yard waste (grass, plants, branches, etc.) to cut down on landfill waste and greenhouse gases.


3621 days ago

SXS26NEW
I'M GUILTY OF DOING THIS AS WELL. IT'S ONLY ME AND IT'S HARD NOT TO COOK A BIG MEAL. HOW LONG CAN YOU LEAVE A MEAL IN THE FREEZER?


3621 days ago

COLEMANSR
I've learned to scale back. Now the Grand kids are visiting what leftovers.(LOL). Great article Coach. It will help spread the word about the waste of food.


3621 days ago

KITT52
I'm guilty too. I do try to make some sort of soup or stew with left over but at times I just plain buy to much fresh fruits and veggies and you can't eat them when they are rotten. I'll try and be come more aware of this as its just throwing money away.

Kitt


3621 days ago

PAMELA984
Just saw a piece on this on The Early Show - seems to be a problem everywhere. I hate that I have to use so much gas to go to the store so often (I live 30 miles from a decent grocery) to buy fresh produce like papayas, but I never waste good food. Have learned how to freeze things if we aren't going to eat them in time.


3621 days ago

LALUNN-65
VERY INTERESTING AND INJOYED READING IT


3621 days ago



Disclaimer: Weight loss results will vary from person to person. No individual result should be seen as a typical result of following the SparkPeople program.
More Blogs by SPARK_COACH_JEN