First Day of Tri Training
Tuesday, July 22, 2008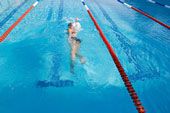 Phew!!! I am exhausted but in an entirely fabulous way!!! I just started my first day of triathlon training. I am super excited (and kinda scared) about what the next few months have in store for me. I am bound and determined to increase my endurance and finish this race!!! I know I can do it!!! It is funny how much the weaknesses I see in my fitness piss me off but that just makes me want it that much more.
Basically, my swimming technique is terrible. Don't get me wrong, I can swim but I haven't ever had to actually swim continuously....ever!!! I love to play around but swimming laps is a whole other beast!! I will tackle it, one lap at a time but wowwie!!! My muscles will be sore tomorrow!!
I am following a training plan for a sprint triathlon which should mroe than attiquately prepare me for my super-sprint triathlon, which is shorter. I figure this will get me started and see if it is something I really like doing and want to dedicate more time/energy/money into the sport.
I AM ON MY WAY!!! WHOOO HOOO!!!
Leah