Monday, Monday (la la la)
Monday, July 21, 2008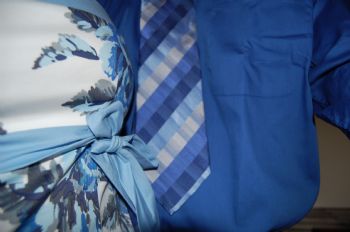 photo: our outfits for my sister's wedding on Aug 02
Hola!
So, I finally found a cute little dress to wear to my sister's wedding! YAY! and Cole has a somewhat matching shirt and tie. I'm so glad that's taken care of! PHEW
So the really exciting part.....the dress is a size 10! YAY that's right! WOOOO. I wore a dress to a wedding one year ago that was a 16 and a dress a year before that and it was an elastic 18. OMG!
I also bought another one for going out to dinner or something when I am home and it is a 12.....I was so excited! It was amazing to just pluck like 8 dresses off the rack and every single one zipped up perfectly and looked awesome....it was just a matter of choosing my preference. I'm in heaven!
So this weekend was crummy weather but I worked Saturday and then Cole and I hit a mall we've never been to for the afternoon....we spent a little too much money but we had a really nice time and walked like 10 miles!!! :)
It was good quality time together finally! It's felt like we've hardly seen each other with all this working!
Anyway, other than some concern for my Dad's health (a long list of problems) and getting over-run by laundry that needs doing, things are GREAT here!!
Happy Monday gang!