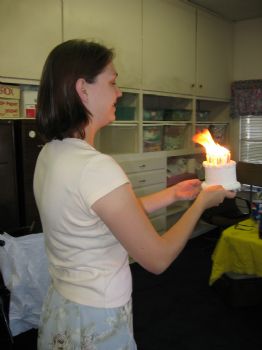 Tonight is the big party my stepdaughter has been planning to celebrate her dad's (my DH's) 60th and her grandmother's (my MIL's) 80th birthdays.
It's turned into a family reunion, with people flying and driving in from all over to attend. The big celebration was supposed to be a surprise, but neither of them would cooperate with the "we're just going to have a small party" planning.
My hubby was being especially difficult - don't know why. He didn't want anyone invited for his birthday part at all; so, after much thought, I didn't! Aubrey and Mike are coming; without Scott, I don't have any other family. His family, on the other hand, is huge (and a little intimidating!).
I'm not exactly dreading tonight, but it may be tough... my emotions are so raw now, not just because of Scott's loss. My DH has been driving me crazy!!! Our 8th anniversary was yesterday, but I am just too worn out emotionally (and still weak from the food poisoning) to "enjoy" it.
I hope he'll finally understand I don't have the patience and tolerance I once had. I admit, his "moods" are very rare, and before Scott's death, they weren't a problem for me. Turning 60 has to be some kind of emotional for him, but he's definitely in denial about it. Didn't mean for this to become a rant on him...
TONIGHT: a limo will pick us up at 6 pm; there'll be a catered buffet in a banquet room located right on the water (LA Harbor), with a mariachi band playing during dinner; a DJ will do his thang afterwards for dancing, et al. I wonder what DH is going to wear...?
My goal for today: color my hair, refresh my dress and shave my legs, and somehow make it through the evening! Wish me luck!!!