A "Skinny" trip to the Beach!
Saturday, July 19, 2008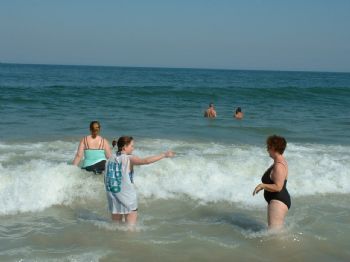 Just came home from a Wonderful trip to the Beach! The weather was perfect and it felt really great to be able to put on a bathing suit and not feel like the "biggest person on the beach!" It was nice to have the energy to do the stairs without breathing heavy and take multiple walks on the beach. It was good to be able to enjoy small treats without wanting to keep eating it all. It was wonderful to open the shower curtain without wanting to wretch at the image staring back at me in that huge mirror!
I know I still have a way to go, but I'm enjoying where I am now, too!
That's me with my daughter (pointing at me) and her friend (in the waves).