Hello & WEDDING GOWN!!
Saturday, July 19, 2008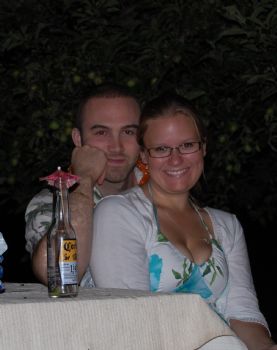 Photo: Cole and I at a Luau last weekend
Hello sparkers! Here I am!!!! I've been bad about logging on lately and I miss my SP time. Life is just insane though.....I only have 4 weeks left in the semester and things are rolling along at a breakneck speed.
Cole and I just realized how much stuff we have left to get done for the wedding! It's coming so soon now!
I'm still working my part time job too and I have to say that I'm fast approaching a burn-out. Bridal stores in the summer are BUSY places!
Oh well, what doesn't kill me will make me stronger!
I did get a me day yesterday! I got my hair done, highlights and a cut and I really like it. I also got to try my wedding dress on to chose a veil and try the pearls that Cole gave me...and they looked great! There are two pics in my photo gallery if you want to see them!
Anyway, I have to get to work now (grr, it's a beautiful day :(
spark on my friends!