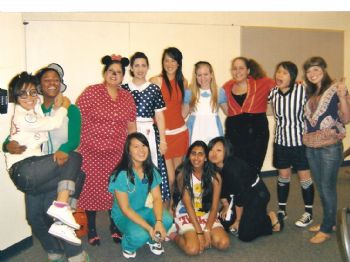 (Yes! I'm the fat Minnie!)
"It's No Fun Being a Fat Girl" ~ A Poem
It's no fun being the fat girl,
As I'm sure you can all relate:
I'm tired of elastic waistbands and poppin' buttons,
Of the chaffing thighs,
And the "Oh my my's"
Shopping in the "women's" department
And being the fattest one at a party.
I've had it with being the wing "man,"
The biggest bride's maid,
Avoiding the beaches and bathing suits,
Looking at my chins multiply,
And trying to love my love handles!
It's no fun when someone asks when the baby's due,
When someone is outright rude—
And comments on how fat you've gotten,
Sadly, I have learned that being obese gives people permission
To treat you like you have no feelings.
Every girl wants to fit into that little black dress,
To feel good about how she looks—
To get compliments and to dress to impress,
But squeezing bulges into the latest fashions
Is no easy task, and that fat sure is hard to mask!
I done with hearing men's insults,
I've learned never to ask, "Honey, do I look fat in this?"
I've heard I'll leave you if you get fatter more that once,
And some boyfriends have tried to tell me how to eat,
Watching me every moment to see if I will cheat.
It's nearly impossible to fit into a classroom desk,
An airplane seat or restaurant booth,
A crowded elevator . . . a roller coaster seat,
Some women embrace their fat,
And date fetish men that think of them as meat . . .
But that is not me.
I hate being big; I hate avoiding people because I gotten so fat,
I hate being the fattest friend,
I hate the wiggles and the jiggles and the cellulite thighs
The stretch marks and the strained bra strap.
I want to take pictures and not throw them away,
I want to know what it's like to be thin,
I want to know what it's like to wear a size ten,
I want to be the object of desire—
I want to feel like the Goddess that I know I am.
It's no fun being the fat girl,
I'm ready to shed those layers of protection,
Those layers of self hate,
And do this for me
I'm going to lose this weight!
I'm sure you can all relate.