I am losing it
Thursday, July 17, 2008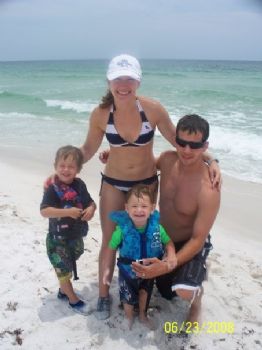 I look so happy in that picture. I actually got what I wanted, when I wanted it. And here I am showing it off. Now what? Where do I go from here? I took the RMR and MAP test and got some great advice so I can lose more fat and increase my conditioning and endurance. Great. Looking @ my picture I realize that their are places that could use more toning up (my legs, arms, back) but to be REALLY honest. I am tired. Yesterday and today I slept in and skipped my morning workout. I still went to the gym yesterday and did my strength interval workout on the tredmill and did some leg workout. But I was really just going through the motions. One of the trainers even asked if I felt ok and I just said "Not motivated".
I believe I know what it is. I don't have a desire for something else. I am happy with how I look. I have no desire to compete in a 5k, just knowing that I can run one is really all I need. I have no desire to be a figure competitor (I played with the idea but realized that while many of the women are beautiful it just isn't for me). So what else is there?
I want to go for bike rides and hikes with my family and going to the gym everday is taking away from that. I am learning tennis, but find I am too tired to practice or concentrate on all the particulars.
I have re-vamped my workout video rotation and gym schedule to include more rest days, and I know this will help. I just need a goal. As a stay at home mom who is homeschooling a 4 year old and a 2 year old I do aim high, just my goals involve them more than me.
And for the last reason I am 'losing it'. I can't get pregnant. I was very successful the first two times, at a higher body fat. Now lingering between 15 and 13% body fat it just isn't happening. Every month I just want to cry- and sometimes do. I go to the trainers at my gym to get a measurement of my progress with my workotus and they send me back with fitness and nutrition programs that will help me lose fat. Obviously they are not listening to me.
Hopefully I will get a rejuvenated spark. I miss my high from my am workout but I really liked the rested feeling I got this morning after waking up late at 7am instead of 4am.