Sailing, takes me away, to the 1980's
Tuesday, July 15, 2008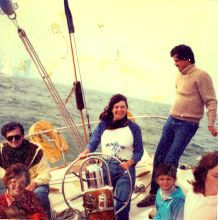 "I'm lovin' the 80s ~ Week 2 of July!!"
Making up for many lost challenge points this week, so here it is.
This one was 1983. I can tell by the shirt I was wearing. It was purchased at a bar on a road trip me and a girlfriend took, leaving the day after graduation.
This was on my boss' 42' Morgan sailing yacht. It was a pleasure cruise this time, although I did crew for races, and sailed the Mackinac several times. Never winning, but enjoying the hell out of it all the same.
The "gentleman" standing on my left was another crew member that my boss ended up hiring as a favor a couple of years later. I couldn't stand crewing with the arrogant SOB, and I liked working as a subordinate to him even less, but ended up having the ultimate satisfaction of taking his job away from him. That's what happens when a used car salesman tries to be a construction superintendant. They eventually prove that they're full of it.
He would have been useful if his brand of hot air could fill the sails if the wind died down though.
The others in the picture are a client and his family. It wasn't a schmooze cruise though, we already had the contract.