Teaching the children baseball
Monday, July 14, 2008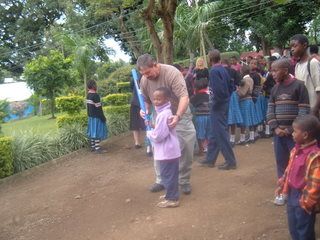 Here is a photo from our team in the USA. We went to visit an international ministry for children. They help the very poorest of the children of this area to get food, medicine, and schooling. It was really fun to see the children playing with the team from the USA.
Frank, one of our friends, was teaching them how to play baseball. They learned fast and before you know it the plastic balls they were using were getting cracked from the direct power hits of the youngsters.
We left feeling young again ourselves. I do believe that we should be as children more often. I love playing and can find myself drawing a hopscotch board on the ground to play with some of our MK. I think it is one of the ways to stay young.
Here is a challenge for you: Next time you see children playing a game, instead of just watching, go ahead and play. It is a great stress reducer and will burn calories too.
Mary