It's a new Day
Saturday, July 12, 2008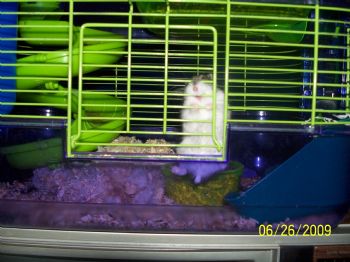 The past two days have been the worse days I've had in awhile. I haven't been eating enough, drinking enough water and didn't exercise. Shame on me and I keep using being stressed out as an excuse, when I know eating right, drinking my water and excerise all help to keep up the strength to hang in there when you world is falling apart around you, but I just couldn't find it in me to get moving, or even caring at the time. Shame on me, right?
On top of all the issues I've been having with trying to make ends meet, my computer having a brain fart on me, Yesterday I went in to feed my son's hampster and he was dead. Poor little thing, he was an old guy for a hampster, We've had him for about 4 years, and I kinda suspected his time was coming to an end, because he wasn't peeking up at me like he use to when I called his name. Gonna miss him, he was so cute. May he rest in peace.
Anywoo, today is a brand new Day, I'm alive, breathing, feeling ok for the most part, the sun is shining and my Husband is coming home from VA. So I'm gonna make the best out of what the day has to offer and hopefully not dwell on everything else that is out of my control.
Have a Blessed Day everyone