On the mend
Saturday, July 12, 2008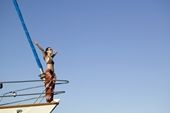 My poor body has been through the wringer these past couple years. It seems that I am facing one pain after another. First my feet, then a Celiac problem, Endometriosis & a root canal... yikes! Then when I thought things could not get any worse, I began having trouble with my throat.
Feeling as if there were a frog in my throat, I got to the point where I could no longer breathe right. I was so fearful that something was growing in there and that big "C" word lingered on my mind, but I changed my thinking, read my "You Can Heal Your Life" book, drank marshmallow tea & did a lot of praying.
The prayers and love from friends and family defenately paid off. I found a fabulous ENT who examined me & tested out a few things before diagnosis. He described it as a "Malfunction" with the little doohickey in the throat, and assumed that I may have a severe case of Acid Reflux, which may have caused it to swell.
Well, I am finally feeling back to normal and can say that I am somewhat pain free right now. This is just a part of the pain I am experiencing right now (I can't get an appointment for the Endo until the end of August). But I will continue to think positive and push toward a healthy life & achieving my ultimate goal.