How do you fit a thousand people into a tiny building?
Thursday, July 10, 2008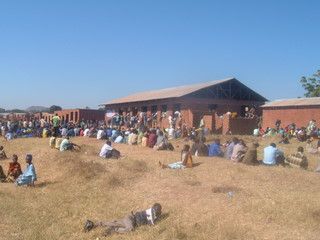 Laela was a small village several hours away from a larger town. There was no electricity or running water in the town. It was amazing how many showed up hours before the teaching seminars would begin. Don said that by the time the team was there to set up the equipment, it was jam packed to over-flowing. There were just as many seated around the building to listen to the Word of God being taught.
Can you just imagine what would happen in mainstream America if Christians had that kind of hunger for the Word of God??? I dare say that there would be a revival like in the days of Azuza St. at the turn of the 1900's, when thousands showed up on a daily basis to pray and seek God.
May our hearts have a hunger for the Word of God as never before. May we become discontent with the entertainment of the world and find our enjoyment in HIM.
Mary