What happens when the team is Testosterone laden:0)
Wednesday, July 09, 2008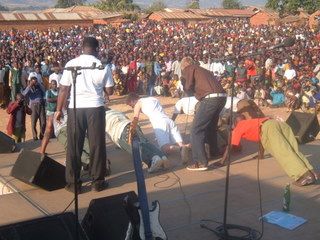 Don told me that while they were in Laela this month, they had a push-up competition. OH MY! There was one visitor from Norway who challenged the team to the contest. What Don didn't tell me, was that it was on the platform in front of a growing crowd.
I thought it was funny that almost all the men got down to do it. Don was the only one left to even take photos to prove it happened. Tito was the winner, out performing all the other men.
What will they think of next?
Mary