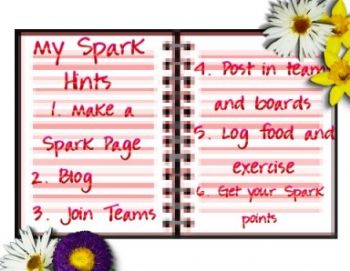 HI gang ...
I decided that this is motivation Tuesday ....because I need this as much as anyone.
In zipping around the site this past month, I have noticed that the most successful people are the involved people. So how do we get involved here and stay involved?
1. Make a Spark page and make it public .
Yes I know there are some of you who want your privacy and that is ok. For the rest of us, please. please take the time to make your Spark page. Tell us about yourself. Post some pictures if you like. Why are you here at Spark? What are your goals? Do you have children or pets? Tell us as much or as little as you wish.
Give us someplace to come and visit you. To say "welcome" and "hello, how are you doing?". We like to drop in and see your progress and lend our support.
2. Blog ..Blog ..and Blog.
A big part of this journey to a healthier lifestyle is recording the ups and the downs. Your blog can be long or short, happy or sad.
Tell us how great you felt when you passed up the brownie and how bad you felt when you binged.
Take the time to read the blogs that others write. If you are in teams, each team will have links to member's blog on the first page of the team. You will also see a community link in the upper right and a link to Spark's Pages ...you can follow that to see recent blog entries.
You will find wonderful motivation in the blogs.
3. Join Teams
This site is loaded with teams of people with similar interests. When you find some you like, join and introduce yourself. Set your emails to receive the new posts. Get to know your team mates.
4. Post Post Post
Post in team boards and in the general boards. Don't be afraid to post. No one will criticize you. Let YOUR personality shine through. We are all learning from each other.
5. Log your food and exercise.
Use the food and exercise trackers daily .... You do not need to be perfect ....just so you are tracking your progress. Out here in California, Keiser Permanente, a medical provider, did a study and found out that those people who kept food diaries faithfully, lost more weight over the time of the study then those who did not log. It really does make you more aware of what you are doing.
6. Get your daily Spark points
....you will see a link to Spark points on the right side of the page. You can have fun with the points giving Spark goodies to people ... and to yourself.
I guess the whole point of this blog is INVOLVEMENT. This community is supportive and motivational if you allow it to be.
We can do this ....together. We are not alone. We need each other and we need YOU.