5K SUCCESS!!!!!
Tuesday, July 08, 2008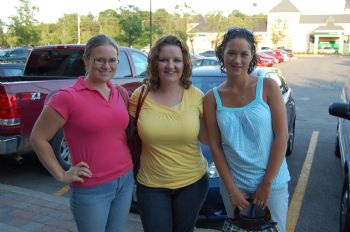 Photo: me in the pink and some friends last Friday.
A week later and DUN DUN DUN!!!
I did it! 5K is in the bag baby!
I completed just over 5K (including my warm up distance) and did it in 37 minutes (including my warm up walk of 5 mins) WOOO! I felt so darn good after that!
It was a push but only because of how overheated I felt again. My breathing, side stitches and muscles were not a problem in the slightest. The whole run felt wonderful in those areas. Just that darned heat! I wish the gym had a fan or two circulating the air a little!
Anyway. I haven't been on in a few days, I've just been busy with life and work. But here I am, I'm still trucking along!! My calorie cycling is still in place in theory but some of my days have been off thanks to various summer events (dinners, parties) I have two to attend this weekend also but I will just continue to make really healthy choices and try not to sweat it!
I'm making an effort to add a few more evening workouts and to bump my running up to 4 days a week again. Cole starts work an hour earlier each morning for the rest of the summer, so that gives me an extra hour to get a run in! On Friday I plan on going to the pool for a swim. I'm also thinking about an ab work goal to add....like 100 crunches/day or something. I hate ab work so I need to make a rule like that! I think it's just what I need to shave off the rest of this tum!!
Aiight, I'm off, keep sparking sparkers!!