Watch out! Hippo on board!
Tuesday, July 08, 2008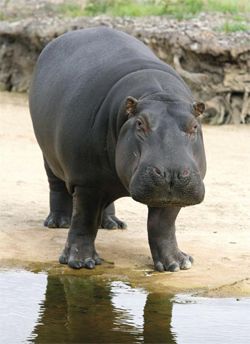 So I went to a friend's wedding on Saturday and managed to find a dress without really looking. I was in New Look and my mum suggested I try on a dress they had. Dresses never work for me and usually I have them made if I need to wear one as it is so cheap to do so out here. But this dress fit perfectly! and ever though it was sleevless I knew I could get a shrug or wrap so I was amazed.
So went to the wedding and felt good but then I saw some pics my mum took before I left hers in which I look like a hippo and then I realised that I was quite possibly the biggest person there. Apart maybe from the bride's mum but she is in her 50s!! So I'm currently in that desperate 'why did I do this to myself' stage that usually preceeds me either knucling down and keeping on track or going completely off the rails and eating everything in sight as one more thing can't possibly hurt!! I'm aiming for the former!!
I don't want to put on any more weight. I want to get back to losing it. The natural high you get from that really is amazing and I'd like to feel like that every single week!
And who can forget the beach/wedding holiday coming up with the skinny girls?!!!!! I may have to stick my head in the sand and completely ignore what everyone else looks like or I'll spend the whole two weeks crying!