7/7/07 The Call Nashville...Looking Back One Year Ago!
Monday, July 07, 2008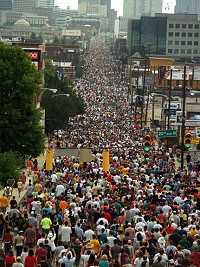 The Call Nashville...It was one of, if not the most stirring events I have ever participated in!
The day began with a "Silent Repentance Walk" (pictured)! 20,000 people gathered to begin the 3 mile walk down Church Street in Nashville, Tennessee to the Tennessee Titan football stadium! I will never forget that experience with God & so many people wanting to "get things right" in their own hearts before walking into that stadium!
The Call Nashville, A Solemn Assembly, organized by Lou Engle, then proceeded into a full day spiritual gathering with about 92,000 estimated in attendance on a very important July Saturday, 7/7/07! It was a totally different day than any other I have been a part of!
What ensued was equal parts of worship, prayer, cries of repentance, shouts of joy, soul stirring messages, & blasts from 50 Shofars! It was an unforgettable day!
Were any of you there?
Now, we find ourselves just a little more than a month from another significant date in our soon to be history: 8/8/08!
The Call Washington DC will not be on that date, but will be shortly after that in August! You have an opportunity to again shape our history in real time! For more about The Call DC go to:
www.thecall.com/Group/Gr
oup.aspx?ID=1000016905
Making Melodies by God's Grace,
Billy