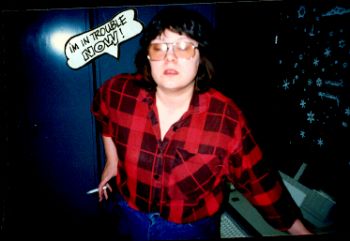 A horrible picture and a horrible story, but I can't make myself drink the water, and I need the challenge points.
"I'm lovin' the 80s ~ Week 1 of July!!"
OK, first of all, no comments allowed about my fashion sense in regards to the red flannel. I was a construction superintendant and being a slave to fashion would not have earned me any respect from my guys. Incidentally, there were two other people there wearing red flannel as well.
Now, the story behind the pic. This was impromptu office Christmas Party #3, 1984, immediately following the work day, in the office. We usually had seveal Christmas parties every season :). I had only moments before, been suckered into drinking a shot of "Polish Vodka". I prefer whiskey, but this was all there was.
I swear, I thought I was going to die. Initially, I couldn't breathe, my vision went black and I was on fire! It was 190 proof liquid poison was what it was. It took several minutes for me to be able to breathe normally or see again, and what you're seeing is me getting ready to give someone a piece of my mind. As soon as I could unscramble my tongue, and think clearly, that is.
Wow!
In restrospect, it's kind of funny, I guess, but I still can't laugh about it. It truly scared me.
It taught me a valuable lesson though. I never drink anything without first checking the label. It's probably why I don't drink Vodka even to this day.