20 Pounds LOST !!
Sunday, July 06, 2008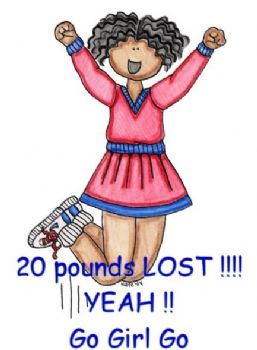 Whoopie !!!
Woo Hoo !!!
Hooray !!!
20 pounds officially LOST and gone forever !!
Despite my promise to only weigh myself on Wednesdays, I pulled the scale out of it's hiding place today to sneak a peek.
I hit the 20 pounds lost mark !!!
I am sending that 20 pounds out into the great unknown and donating them to someone who needs them.
Whoopie !!!!!
It feels so good to see results. If I can do this, you can do it too !
Love and hugs to everyone