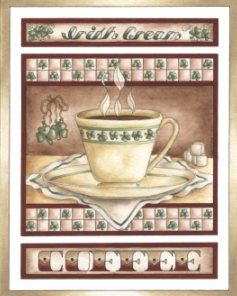 White Chocolate Mudslide --- I am in heaven!!!
Crème Brulee, (my favorite)
Chocolate Raspberry, Coconut Crème, Italian Sweet Crème, Irish Cream, Tiramisu, Toffee Nut, Vanilla Carmel, Hershey's Chocolate Carmel, Cinnamon Bun, Black Cherry Steusel, Amaretto, Belgian White Chocolate Macadamia, Chocolate Cream, Dulce de Leche, Southern Butter Pecan, Vanilla Toffee Carmel, Marshmellow Mocha, Almond Vanilla Parfait and last but not least Vanilla Chai Spice.
I am in heaven .........These are all coffee creamer flavors and they are my one daily splurge !!! There is always a selection in my fridge and the very best way for me to start my day.
I was addicted to the Creme Brulee for my coffee and to the Vanilla Chai Spice for my tea. But White Chocolate Mudslide !!!
First of all I am a white chocolate fanatic ....I can stay away from other chocolates but I cave in every time I get my hands on white chocolate. It just reminds me of eating the big bunny in the Easter basket. Ears last!
I am a life long coffee drinker ....black, sweetened, unsweetened, with milk, creamer, hot, cold, iced .....I love my coffee.
And now I have White Chocolate Mudslide to start my day !!!!
Since I have eliminated just heaps of bad-for-me foods from my diet, I have put my flavored coffee creamers into the no-calorie food group. They are my daily treat.
And now I have White Chocolate Mudslide WHOOPY !!!!
Saw a DUH moment on the LA news last night. They were doing a healthy 4th of July party news bit and they were interviewing a really really skinny mother of 3 who was making a healthy backyard party.
She was showing how she adapts food so that it is more healthy for her family. She took a container of purchased coleslaw that she bought at the deli, poured the coleslaw into a colander and rinsed it off. She said this way her family gets the healthy benefits of the coleslaw with out the un-healthy dressing.
I sat up straighter and went DUH !!! Duh duh duh !!! Rinse off purchased coleslaw??? Are you kidding me???
Why not just buy the packaged already grated coleslaw in the fresh veggie aisle and doctor it up for your family??
The longer I live the more amazed I am at what I see.
We have ice cream (frozen yogurt) and diet root beer in the kitchen ....I am trying my best to ignore it. I do not want a root beer float. I am happy drinking my iced coffee. I will NOT make a root beer float. I am happy with my iced coffee. I will keep talking and convince my self to behave and be good. I am strong ...I can resist the float.
Y'all have a super weekend