I watched my beautiful boy cat die
Friday, July 04, 2008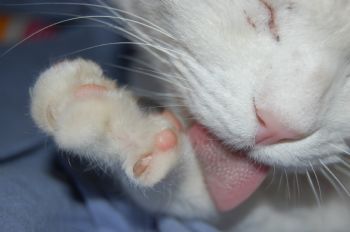 I don't really know how to put into words the events of last night.
We were saying goodbye to friends who are emigrating to Australia today. Drinking a cup of tea and reminiscing about the old days when Phil, my partner, heard a thud. He got up to see what it was and I heard him shout "Ghosty cat!!"
We all got up and went outside and there in the middle of the road, lying in a way no owner ever wants to see their pet lie, was my beloved Chomsky cat. He was named Chomsky but everyone used to call him Ghosty due to is whiteness (though we rarely saw him white 'cos he used to love having dirt baths).
He was on his side with a tyre mark right across his beautiful belly.
He had already gone into shock.
I laid down with my face next to his and I gently stroked his beautiful face. I kissed his cheek and spoke softly to him.
He died.
We buried him.