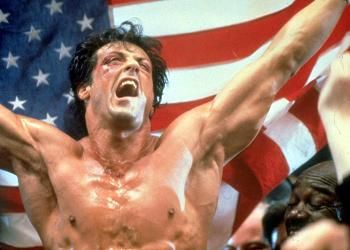 HEY, MY NAME IS ROCKY BALBOA...
That's right, my name is Rocky Balboa.
Yes, it may sound crazy but it's not, trust me. I like to call it imagination.
It's amazing what the mind can do. It's even more amazing what we keep the mind from doing. The things we block out as we go through life. One of those things is our imagination.
I believe it works. No, I know it works.
I remember as a child I use to "teach" my dolls and stuff animals. I would give them a question "What is 2 +2?" and I would write it on paper and then "show them" how to get the right answer. When I got older I kept that same concept and used it.
Some of you may have remembered a couple of weeks back when I was really, really pushing it. Alone in the gym, with only my music with me. I wanted to reach that goal, man I wanted to reach it. I walked into that gym repeating the words 4 miles, 7,000 (strides), 4 miles, 7,000. I got on the machine and visualized that machine panel reading those numbers. I put on my Rocky music (I actually start my Rocky music by shouting out "HEY, MY NAME IS ROCKY BALBOA!") and I was there in Philly going the distance.
Even more, when I felt the need to slow down, when I got tired I didn't stop with letting my mind take over. I told myself "You want to be tired, but you aren't. You aren't tired, you got a lot left." I imagined blood flowing through my legs that just wanted to stop dead right there. It flowed, swelled them into these huge muscles, and I imagined my legs moving faster and faster, light as can be, strong and not willing to give up...
And they didn't and I reached my goal.
When I'm in the gym I'm not alone. I've brought sparks friends with me. I've had them in the gym watching me, telling me to move and keep moving. I've imagined the words on my sparks page sprawled across the gym walls, I've had the trainers from the biggest loser screaming at me and in the last 2 months I've been running up the steps of the Philadelphia Art Museum with my man Rocky.
I honestly believe that if you can join me on this and really think, focus, believe and become Rocky Balboa, you can go the distance.
Read my sparkspage intro, watch the movie if you want and take from it what you can. Turn the story of Rocky into your own story.
For me, the story of Rocky Balboa becomes my story. The story of how one fat woman on the brink of being immobile for the rest of her life, took that step up the Philadelphia Art Museums entrance and began to fight her way through pain, emotional anguish, fear and 100 pounds of fat.
Now what's your story?
I'll help you every step of the way. I just need you to pretend, to believe that you too can run those steps to your goal. Just say it with me...Hey, My name is Rocky Balboa.
Put on your gray sweat pants...
Slide on your black gloves...
Pull your cap over your forehead...
Lace up your shoes...
It's cold outside...
On the streets of Philly...
And now is your chance at the title...
Now is your chance to go the distance Rocky...
Hugs-Rocky Balboa